An internship can be the first step in your career. It is not just about learning new skills but also gaining valuable experience. Internships are a great opportunity to learn the job, network, and get exposure to different industries. A common question for interns is whether or not they should say "thank you" to their internship manager.
The answer is always "yes". Saying "thank you" demonstrates appreciation for the opportunity that was given to you. It also lets your manager know that you care about what they did for you and that you are thankful that they were willing to invest in your development during this period.
However, internships are also a beneficial opportunity for the company as they offer a way to test new talent, free from full-time employment commitment.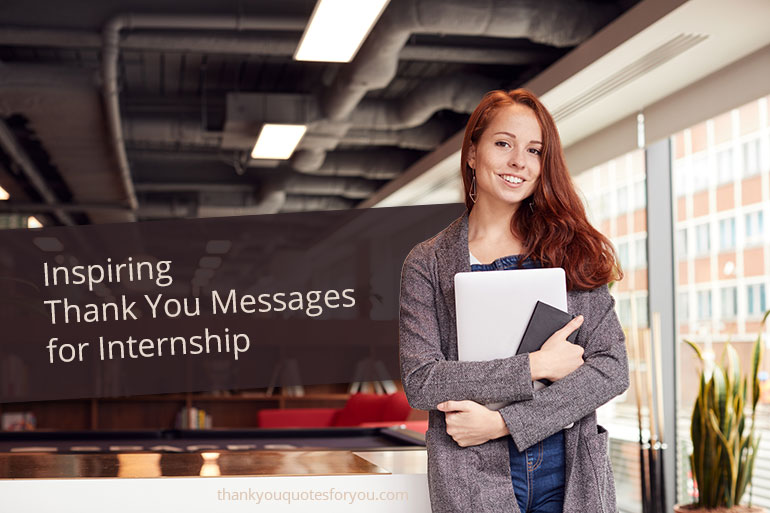 We have listed some messages of appreciation both from interns and companies/managers for internship opportunities. You may then select the right appreciation message either as an intern or a company appreciating interns for their hard work.
The Best Ways to Say "Thank You" After Receiving an Internship Opportunity
Some challenges come with bringing an intern on board, which is why some companies do not entertain the idea of having interns. Your company is different. Thank you for the opportunity.
This profession has some aspects that can only be learned in the field. As your intern, you have allowed me to learn those things, and I am grateful for this.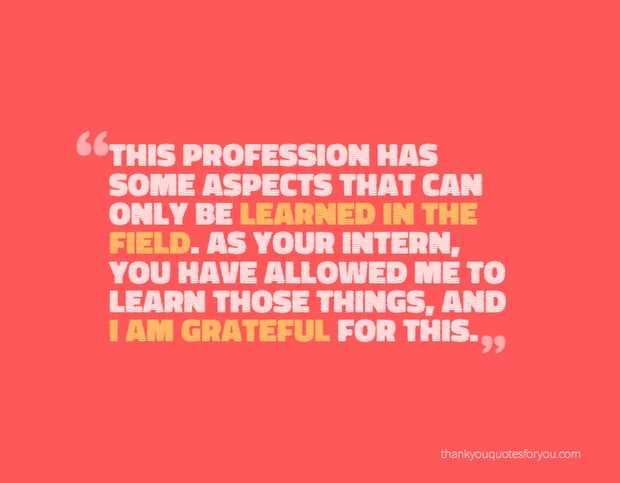 I stopped feeling like an intern at some point and began to feel like I was one of you in every sense of the word. That is how accommodating you all were toward me, and I thank you for this.
There is no better place to have learned the ropes of this profession. I am so glad to have been privileged to intern at your firm. Once again, thank you for this opportunity.
Usually, internships are mutually benefitting formal relationships. However, one party ended up getting more out of this experience, and that was me. The company and its staff made me become a better professional. My gratitude knows no bounds.
If I could do it again, I would take the same decision and intern at your firm. There is no better place to learn what the profession entails. Thanks for the opportunity.
I have rubbed minds with some of my colleagues and realize how fortunate I was to intern in your company. Here I am, among those who benefitted the most from this program. I appreciate everyone in the company for this.
There is a huge difference between the person I was before and after this internship program. I am much better at what I do, and it is not surprising given the amazing minds that work in your company. I am most grateful for the experience.
Had my fair share of bad decisions at various points, but I have also made some good ones, and, well, the decision to intern at your firm is one of my best decisions ever. Thank you for the life-changing experience.
It is funny how I considered the internship program a complete waste of time. I wanted it to end before it even began. Well, I obviously changed my mind, thanks to this fantastic experience working with your company. I am grateful and hope this is just the beginning of a long-term professional relationship.
Some Appreciative Quotes to Interns for their Contribution
Our company does quite a lot to hire the right kinds of interns. But along the way, we have also ended up with some terrible interns. Well, you are one of the very best we have had. You have done a great job with us, and we appreciate you for this.
The next time we hire an intern, we will look after someone like you. Your commitment to the organization, even as an intern, has been impressive. Thank you for your brilliant service.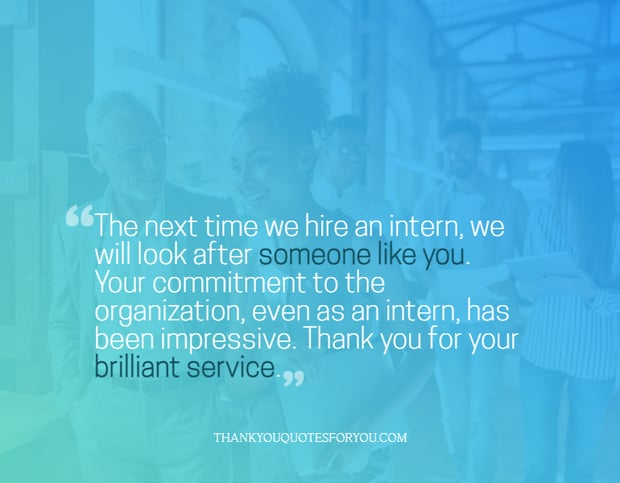 Here is a fact, interns do not have much time to spend with us. But in such a short time, you have done so much and won our respect. Well done (name of recipient).
Even as an intern, you became a role model to permanent staff members. Your commitment did not go unnoticed. You did a great job with us, and we are very proud of you.
You did so well with us, and I am happy to give you a recommendation letter. It is something that I rarely do, but this is also because you are one of the rare ones. You deserve it, and we all celebrate you.
I have seen interns come and go but never felt this emotional about interns leaving. You are one-of-a-kind, and we will all miss you. We wish you a promising career and a happy life. Thank you for your contribution.
Even as an intern, what you brought to the table was remarkable. We are so glad to have had you as our intern and hope that the journey will now be smoother for you. We are confident that you will not only survive but thrive as a professional in your field.
I have seen enough to know that the future will be bright for you if you continue to show the same amount of commitment and focus. We celebrate you for your contributions.