Lawyers are a critical part of the legal system. Without them, many people would not have access to fair representation in court. Dealing with a lawyer is the best and sometimes the only hope of getting justice for some people.
Some of these professionals even go as far as helping out with pro-Bono cases. Considering the lawyer's essential role, clients who benefit from it should take a moment to thank them for their hard work. Showing appreciation for their expertise can also make your attorney more likely to help you in the future.
A thank you note, a card, a word of appreciation, a gift – all these can be a means of showing your gratitude to your lawyer. It doesn't have to be fancy, but it must be meaningful.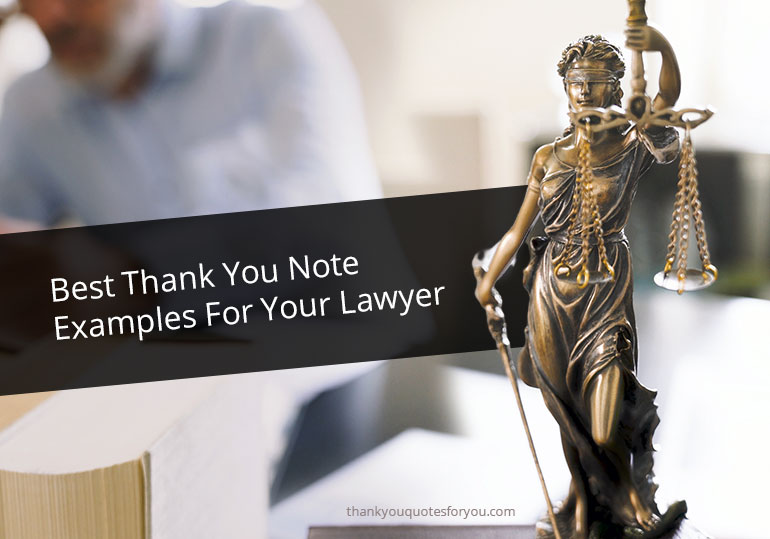 When crafting a thank you message, don't forget to take into account what they did for you and how they made you feel during the process.
We have prepared some messages to express your thankfulness that can be sent to your lawyer. Read through the appreciation notes below and select the right one for your lawyer.
Messages of Gratitude to Your Lawyer
I have dealt with several lawyers in the past. There were even times I needed them for legal representation before a judge. However, you are the best of them all. What you bring to the table is in your client's best interest — well done, Barrister (name of the lawyer).
Without your professional assistance, I would have paid the price for an offense I did not commit. That was how terrible the case was, and you were fully aware of this. You came to my aid by being the best lawyer out there, and I am very grateful for this.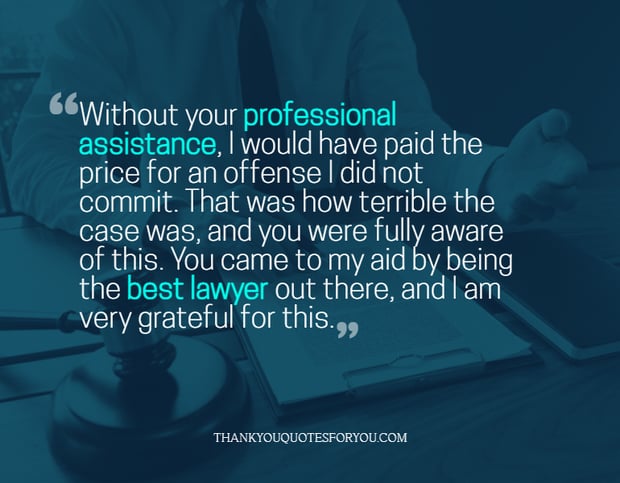 Even as a layman in legal matters, I knew that the odds were against me. The situation was not favorable, and I imagined the worst happening. Thanks to your impressive legal skills, you did your legal magic, and I saw myself emerge as the winner. Thank you, Barrister (name of the lawyer).
It is hard to imagine that this was a pro bono service. You gave your very best like you got a top-dollar reward for it, and I am very grateful for this. I pray that good things happen to you, and I appreciate you very much!
Some things are not taught in law school, but a lawyer needs them to excel in their practice. This makes a legal practitioner an outstanding representative in and outside the courthouse. You have these things, and that is why you are remarkable. So glad to have you as my lawyer.
Considering how everything has played out, I can boldly say the outcome would have been terrible without your legal services. Reaching out to you was a wise decision, and coming to my rescue was very thoughtful of you. Thank you very much for your great assistance.
Here is one thing that I am grateful for, given how the events unfolded. I am thankful that the opposition's counsel was not as good as you. You are a remarkable legal representative, and I thank you very much.
Some legal representatives bring their A-game in service of their clients. Although there are not so many of them, I am confident you are one of these very few. It is an honor to have you on our side.
Short Thank You Notes for Lawyers
Without your help, I would have been caught up on the wrong side of the law. But thanks to you, things are taking shape. Thank you very much!
All hell broke loose the moment I was handed that speeding ticket. But thank you for making it all go away.
The legal charges I paid are nothing compared to what you have done for me. You are so good at what you do, and I am very grateful I found you.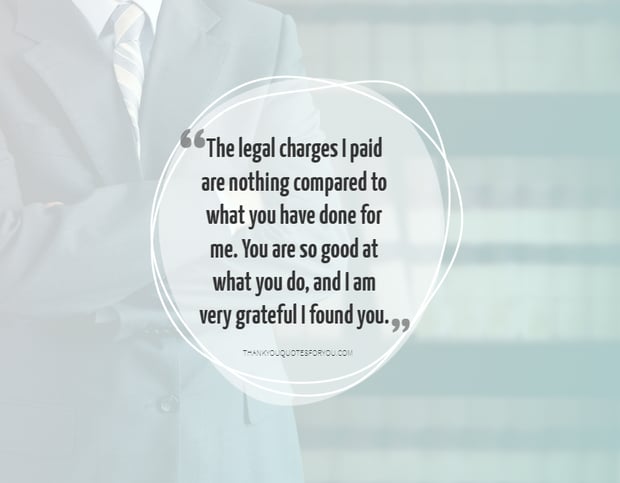 Things would have taken a bad/worse turn if you did not step in on time. Thanks for doing everything possible to make the law work in my favor.
There is one thing I have learned from experience. The truth is not necessarily what happened but how it looks like in the eyes of the law. On that note, thanks for doing all to make me appear in the best light before the jury.
You are a master of your craft, and my time with you has proven this. I am so privileged to have had you on my side. Thank you for your services.
I have never been this reassured by an attorney before. It is not hard to understand why as you are one of the best. Your services are well appreciated.
Just as you have made the law work in my favor time and time again, I pray that life works in your favor in everything you do. Thank you for your exceptional services, Barrister (name of recipient).
The chips were down, and the odds were against us. But despite this, you still managed to get us a fair settlement offer. Thank you very much!
If any defense attorney could save us from that legal mess, we all knew that it was you. We are glad that we reached out to you for help and thankful that you took up the offer and saved the day.
Right before my eyes, I saw you talk me away from the prosecutor's allegations, and here I am, a free man. I will forever be grateful, Barrister (name of the lawyer).
Thank you for facilitating this merger and ensuring no loopholes in the agreement. I am very pleased with your services and appreciate your effort in all of this.
Depending on the situation, pick a thank you note to lawyers that best serve your purpose. Read through attentively and choose the most befitting one.