Veterans Day is a time to express our compassion and gratitude for the sacrifices made by men and women who have dedicated so much in service to our country. It's also a day to reflect on veterans' challenges while returning to their families.
Did you know, for example, that above 1/4 of all homeless adults in America are veterans? That means about 130,000 vets are living without shelter on any given night.
And when it comes to mental health, many people assume that since these men and women were tough enough to serve in combat situations, they should handle any psychological trauma they experienced after coming home. The reality is often quite different: PTSD can be hard to identify and treatment options may not always work as well as we hope they will — at least not right away.
In all, about 13.5 percent of veterans from the wars in Iraq and Afghanistan have been diagnosed with PTSD, according to The National Health Study for a New Generation of U.S. Veterans. That's a much higher rate than that found among civilians, estimated at less than 1 percent. There are no solid statistics available for those who have experienced mental health problems without seeking treatment.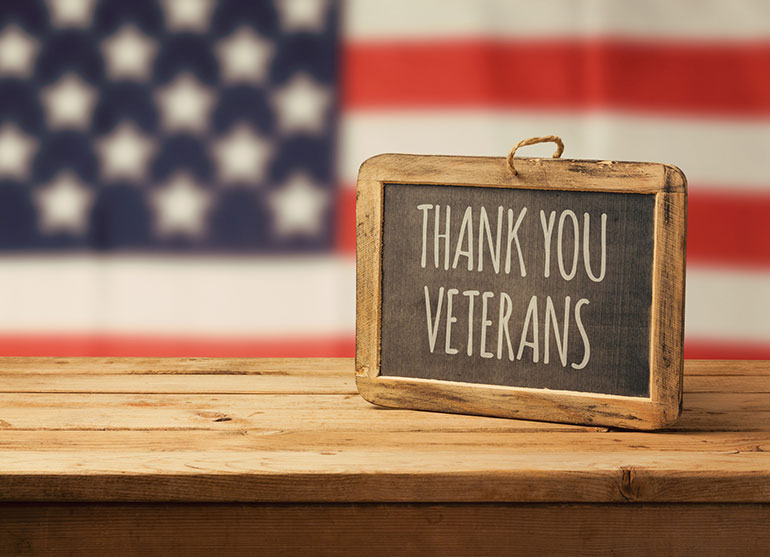 We must acknowledge their sacrifices for the country, even if it may be difficult or uncomfortable. Gratitude is a powerful force in healing emotional wounds and strengthening relationships. This article will teach you how to express your gratitude in meaningful ways.
Thank You Quotes for Veterans
Some of you are called fallen heroes. Well, no hero should be considered fallen because legends never die. We thank you all for your service as living or resting heroes.
You have put yourself on the line for this country, and we cannot praise you enough for this. We all applaud you for your brilliant service to the nation.
We can sleep with our two eyes closed thanks to people like you who have left yours open to protect our nation's interest. You are well deserving of our sincere salutation.
Deciding to do the things you have done for this nation is the true meaning of selfless service. Thank you for serving selflessly.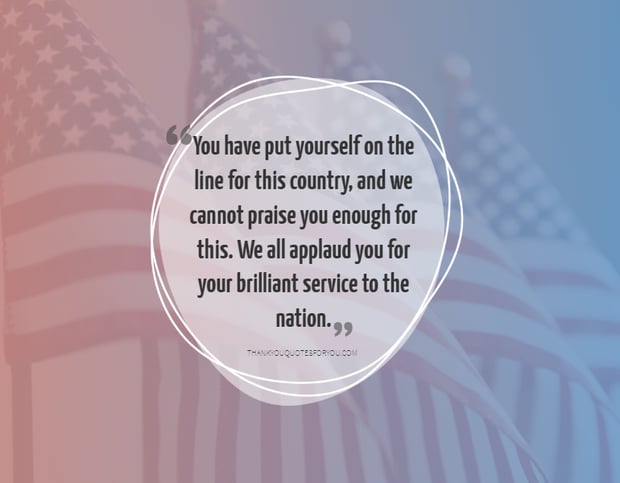 You cannot be compensated enough for your sacrifices, commitment, and passion for protecting everything we all stand for. Well done, hero!
A very big thank you to the living and fallen heroes that have kept this nation together despite the many threats to our national security. Thank you very much.
We all at (name of team) cannot fully grasp the number of sacrifices you make for this country. However, we know that it is a lot, and not many people can make such sacrifices. For this reason, we all appreciate you for all you have done.
Fighting for a course greater than you is what makes people like you heroes. You have done this valiantly in your prime and even afterward. Thank you for your remarkable service.
If not for people like you and what you do, everything would have fallen apart. Thank you so much for your brave and sincere service to this country.
We cannot appreciate you enough for holding the fort during your active service in the military and even afterward. Thank you for your sacrifices.
The strength of a nation is the strength of its military. The strength of the military is the strength and acts of people like you. You are at the very heart of this nation's power, and that is why we are doing so well. We all thank you for this.
Thank you for playing an essential role in our communal success story as a nation. What people like you have done for this nation should never be undermined, and this is why you have our thanks and support at (name of company or team).
You served this nation in the rain and stormy weather, and equally bravely served when the chips were down, and the odds were against you. You have done so brilliantly in service, and we appraise you for this.
Not every uniformed man and woman like you ended up as a veteran. You did because you were found with unquestionable character along with your brave acts. Thank you for living an honorable life.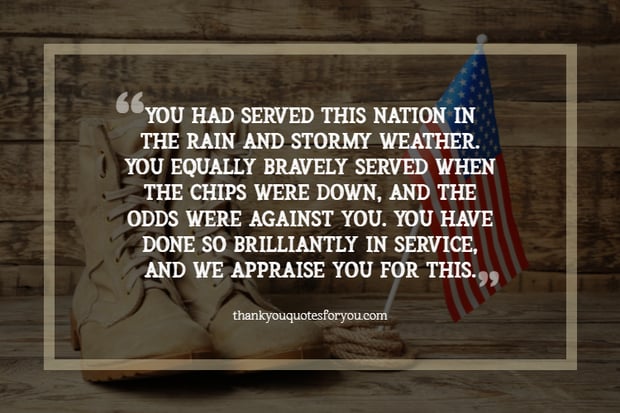 Aside from the Veterans Day Holiday, some other days are set aside to celebrate people like you. But truth be told, these days are not sufficient to celebrate what you have done for every one of us. You deserve to be celebrated every single day. Thanks for your relentless service to this nation.
People like you first come to mind when we think about courageous men and women. You are the reason we all live a chaos-free life, and we acknowledge you for this.
You have stretched yourself beyond the limits protecting our nation's interest, and we all owe a lot for that. Thank you for all you have done in service to our country.
Several things are done to reward people like you for your brave and honorable service. However, we all will forever be indebted to you for your acts of bravery and honor.
Even when your body was way past its limit, your mind and spirit never gave up. You held on as protecting our national interest was your priority. We all respect your contributions to our safety and the nation's progress, whether as fallen or living heroes. We also thank you for your brave and selfless service.
The day you got into active service, you became an incredible person. Your bravery and sacrifices made you extraordinary. You are the reason we all can live normal lives, and you are well appreciated for this.
And here you have them – some honorific messages to veterans for their duties, considering the selfless sacrifices these courageous and honorable men and women made for the good of all. A few are specifically for fallen heroes, some for living veterans, while others have a general tone.