Life is all about believing in each other. Without belief and loyalty, people fail to cling to each other. However, trust matters a lot in our life. When a person keeps believing in us or puts trust in us it becomes a special bonding emotion, belief, and faith. Believing in each other enhances the boning of every relationship.
 Thus, ending a beautiful note of thanks message or quotes helps to create the relationship. We all love to listen to appreciation, it's human nature. By giving appreciation to each other, our faith also gets deeper. In life, very few people believe in our passion, our dreams. We all have one special person who's been there for us in all our difficult times and keep believing in us. That one person who kept believing in us and our hopes when others did not. It is our responsibility to give them a thank note and word of appreciation for their support and belief in us. 
Thank You For Believing in Me Quotes & Messages
Here, get some mind-blowing ideas and thoughts to express your feelings and words of appreciation to the most trusted person in life. The person who has enormous faith in you sends them beautiful thankful messages and quotes. So read the following thoughts and use them to express your deep feelings to your near and dear ones.
Thanks for believing in my dear. Everyone needs somebody who keeps supporting them at every step of life. I am so grateful that you are the person who keeps believing in me and my dreams. Thank you!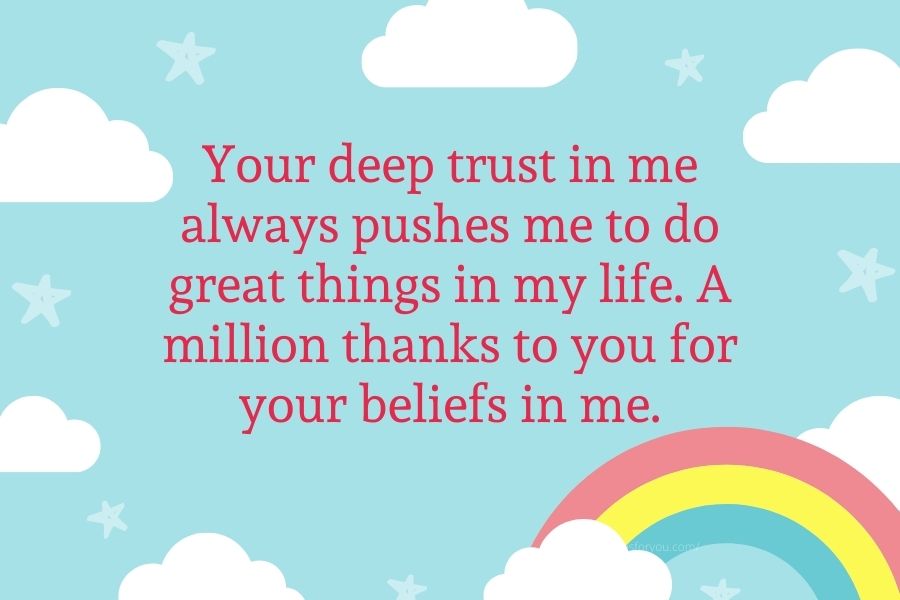 Your constant support and faith in me always keep me achieving many things in my life.  Without your faith in me, I do not know where I would have been. Thanks a billion for keeping faith in me.
A lot of great things have happened to me since you entered into my life and you believe in me and my ambition. This faith always keeps me moving ahead in my life to achieve my goals.  Thank you so much.
Your deep trust in me always pushes me to do great things in my life. A million thanks to you for your beliefs in me.
You helped me to explore myself to the whole world and try to make a better version of myself. Thanks a billion for trusting in me.
I have tremendous confidence in myself today because you were always there in my challenging times and made me believe in my own determination.. I express my sincere thankfulness to you for keeping supporting and believing in me.
The bond between you and me is incredible. All your contributions and support for me are just priceless. A ton of thanks to you for believing in me.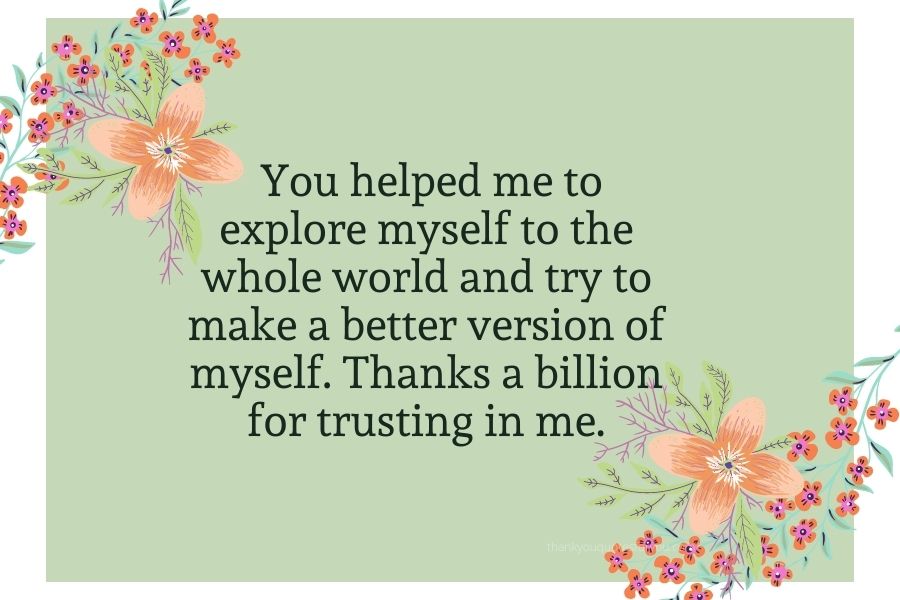 I want to say a lot of thanks to you for all that you have invested to make me a better person and for having a strong belief in me. Thank you very much!
You are the most remarkable person who keeps an enormous amount of faith in me. For your continuous support, I am able to reach my dream. Thanks a bunch!
You are the most extraordinary person in my life who made me realize the importance of my dreams and passions. Thanks for making me a productive individual. Your help and faith in me are just precious for me. Receive my immense thankfulness.
I have never met such a charming person like you. You are a strong believer and the person who tried to bring a lot of change in my life by believing in me.
You are the truest and loyal one in my life who always believes in me no matter what the situation. I will always remain grateful to you for your loyalty and for believing in me blindly. Thank you, dear.
I was walking along with my darkness, you came into my life and gave me a new ray of hope by which I started believing in my own. Thanks for making me confident and believing in me.
No one has ever guided me to do something different and to dream big. You always tried to keep pushing me forward in life. It's actually priceless for me what you did for me. Because words are indeed less to express my feelings. I highly appreciate your support and belief in me.
I feel really enthusiastic and powerful when I listen to the word of encouragement from you.  I become fearless when you are with me. Thanks for keeping a lot of faith in me.
I feel immense pleasure when I listen to your words of encouragement, which always inspire me to do my best. Thanks a lot, dear for believing in me and supporting me at my worst time when no one was there to believe in me. 
What I am today because of you only. When no one was there to give me hope and aspiration at the tough times in my life. In that situation, you were the only one who believed in my words and supported my dreams. Thanks a lot for everything you have contributed to me.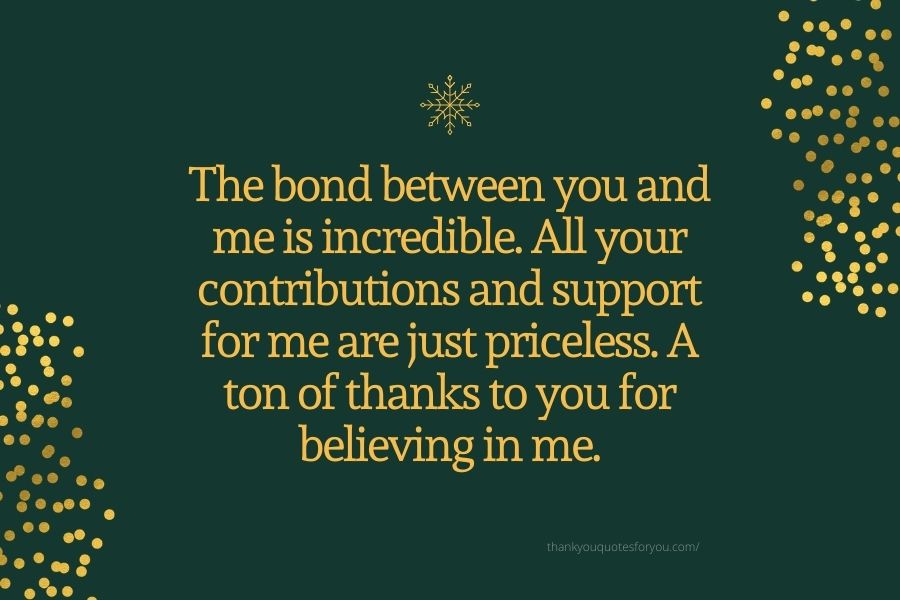 Thanks a million for believing in me and my hopes. I would not be capable of being the person I am today without your support and faith in me. You changed my life and made me a better version of myself. Thank you again for believing and helping me at my challenging time.
You have made my life awesome and meaningful with a genuine look of faith and sweet words of motivation. I feel really fortunate to have a person like you.  I found a strong believer like you who always instructed me to do my best in life. You made my confidence high and taught me to be fearless to achieve my dreams. Thanks a ton.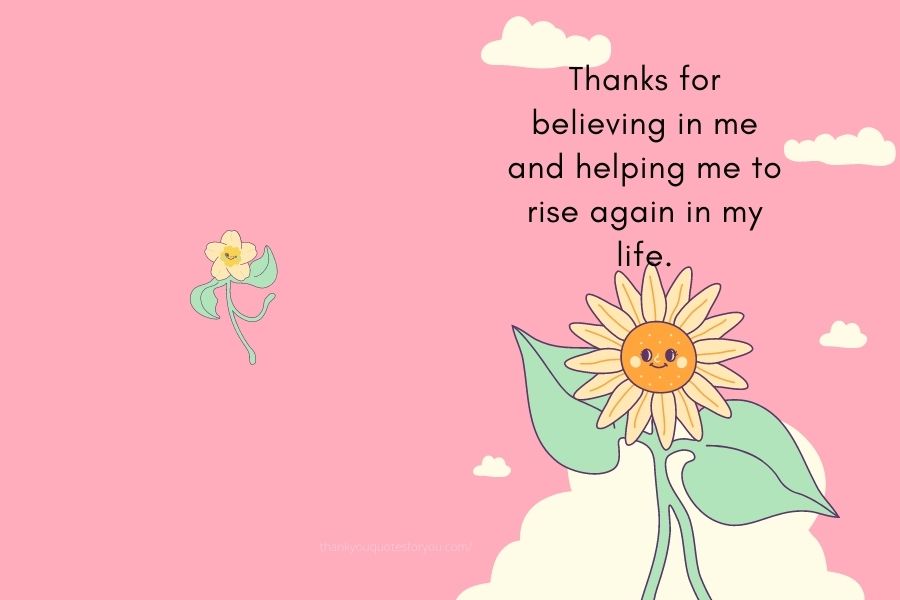 I will never forget in my life what you did for me. Your support and words gave me an enormous amount of strength when I have already given up. Thanks for believing in me and helping me to rise again in my life.