No one is perfect. We all have flaws, so when someone believes in you and your ability to accomplish a project, this should not be taken lightly. It is a privilege that should be cherished and protected.
When you're blessed with the trust of someone else, you may want to think of a way to thank them for believing in you. Expressing thanks can go a long way towards strengthening relationships with friends, family members, coworkers, or anyone else who has given their trust to you.
There are many ways to say thanks, and the best way often depends on the relationship you have with the person. A handwritten note or a heartfelt conversation can be meaningful for someone close to you, while a simple 'thank you' text may be more appropriate for a colleague or acquaintance. No matter how you say it, make sure your actions back up your words. Below, you will find some samples of messages that will express your appreciation to someone who believes in you.
Inspiring Thank You Notes for People That Believe in You
Thanks for believing in me, my dear. Everyone needs somebody who keeps supporting them at every step of life. I am so grateful that you are that person for me and my dreams. Thank you!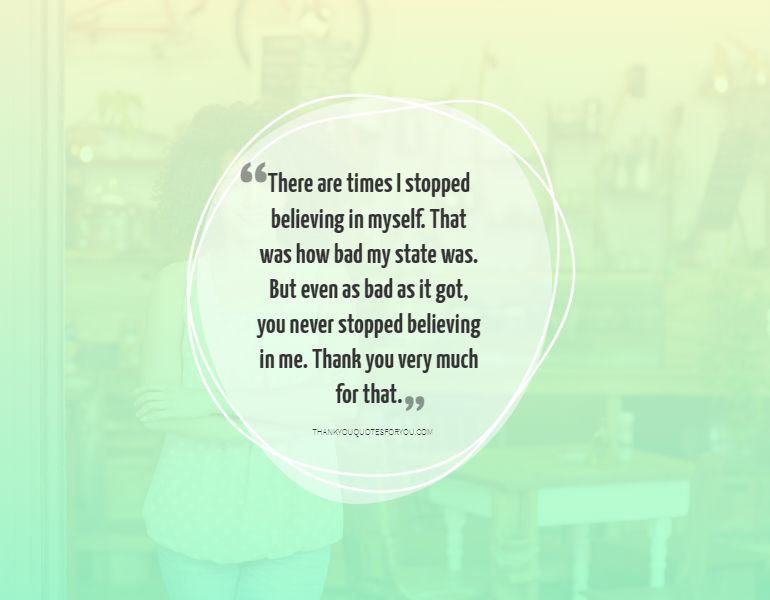 Your constant support and faith in me always keep me achieving many things in my life.  Without your faith in me, I do not know where I would have been. Thanks a billion for believing in me.
A lot of great things have happened to me since you entered into my life and you believe in me and my ambition. This faith always keeps me moving ahead in my life to achieve my goals.  Thank you so much.
I have tremendous confidence in myself today because you were always there in my challenging times and made me believe in my own determination.. I express my sincere thankfulness to you for keeping supporting and believing in me.
The bond between you and me is incredible. All your contributions and support for me are just priceless. A ton of thanks to you for believing in me.
There are times I stopped believing in myself. That was how bad my state was. But even as bad as it got, you never stopped believing in me. Thank you very much for that.
There was a point where your belief in me was the only thing that kept me going. Without it, I would have ended up terribly. All thanks to you (name of recipient).
There are very few people that have believed in me through thick and thin, and you are one of them. Without people like you, achieving this feat would be impossible.
Some people come your way and leave positive marks. I can boldly say that you are one of such people. Considering how much you believe in me and what I stand for, this has been my experience.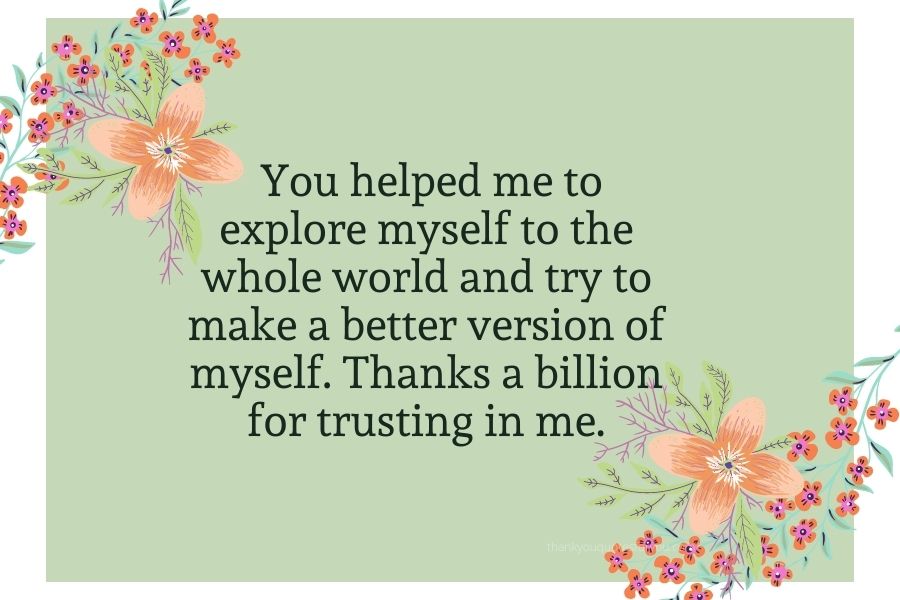 You are the most extraordinary person in my life who made me realize the importance of my dreams and passions. Thanks for making me a productive individual. Your help and faith in me are just precious for me. Receive my immense thankfulness.
I was walking along with my darkness, you came into my life and gave me a new ray of hope by which I started believing in my own. Thanks for making me confident and believing in me.
I feel really enthusiastic and powerful when I listen to the word of encouragement from you.  I become fearless when you are with me. Thanks for keeping a lot of faith in me.
I feel immense pleasure when I listen to your words of encouragement, which always inspire me to do my best. Thanks a lot, dear for believing in me and supporting me at my worst time when no one was there to believe in me. 
Trust is the fuel that drives fulfillment. Many people think that I have it all figured out, but it's all down to people like you. Your breathtaking belief in my visions is why I am doing great things. Thank you very much!
Your time, money, and talent have played a huge part in my success story. I keep asking myself why you have done this much for me, and I guess it is because you believe in me beyond any reasonable doubt. I cannot say that I deserve this, but I can say a very big thank you for all you have done for me.
Some people still believe in me because they are not aware of my bad habits. Some stopped trusting me the moment they acknowledged this side of me. But you have seen enough of both sides, and yet you keep believing and supporting me. I am indeed grateful.
You are a true friend and brother/sister. A friend that would not back off in the drought or stormy weather. The most amazing thing about our relationship is how consistently you have believed in and encouraged me.
I can mention several instances when you should have turned your back on me. Instead, you defied all odds by supporting and trusting the process. Thanks for doing the extraordinary.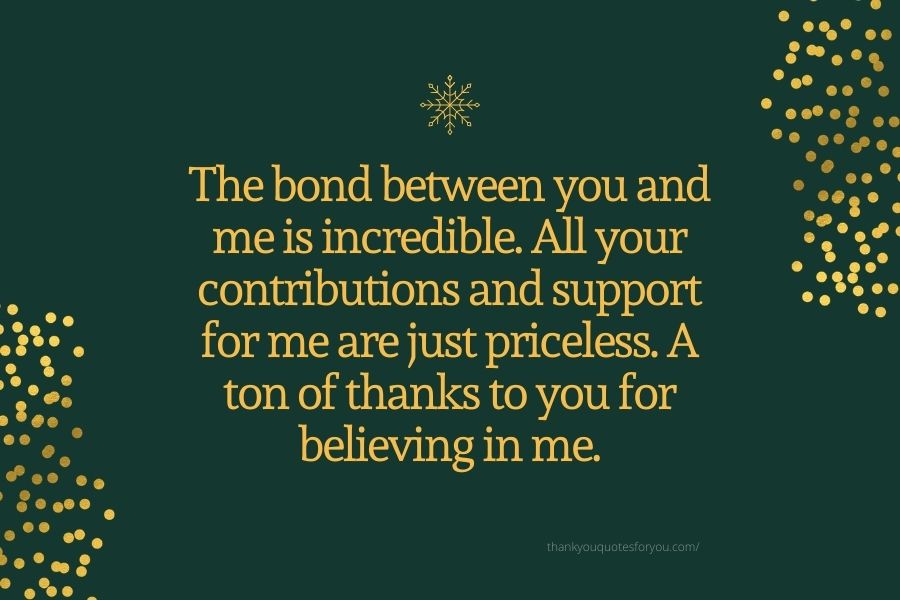 You have made my life awesome and meaningful with a genuine look of faith and sweet words of motivation. I feel really fortunate to have a person like you.  I found a strong believer like you who always instructed me to do my best in life. You made my confidence high and taught me to be fearless to achieve my dreams. Thanks a ton.
My experience with you has taught me how valuable having someone who has faith in you is. It is the reason I do not take you for granted. I am taking out time to say a big thank you for believing in me.
There is a huge void left when no one trusts and supports you. That vacuum existed for a very long time before I met you. Thanks for filling that void and bringing so much joy.
I got fed up at various points and wanted to call it quits. However, two things kept me going. The first is the sacrifices I have made, but even that did not matter at a point. What mattered most was not letting you down, considering how much you believe in me. Thank you for believing in me.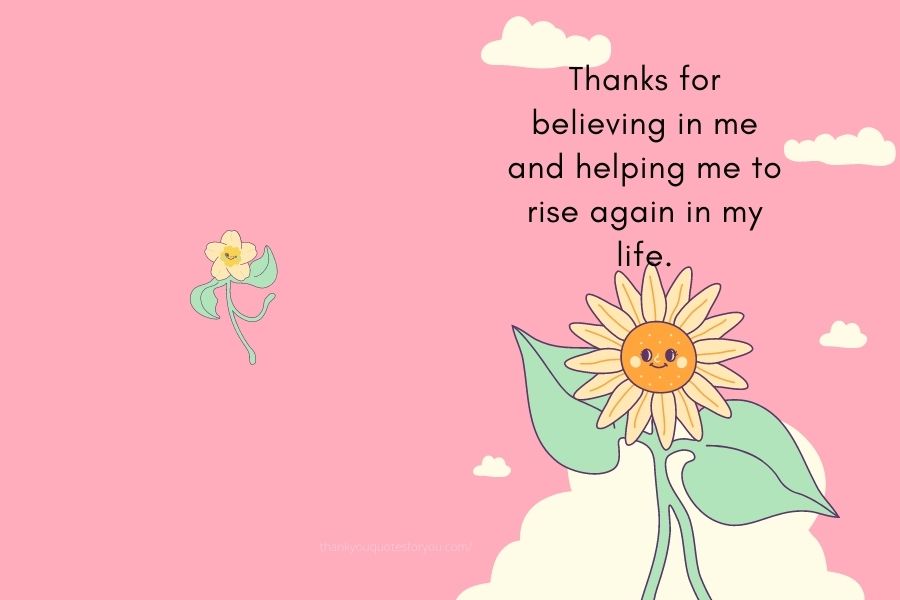 I will never forget in my life what you did for me.  Your support and words gave me an enormous amount of strength when I have already given up. Thanks for believing in me and helping me to rise again in my life.
Everything becomes possible when you have people who believe in your dreams and what you stand for. I have met a few people that believe in me, and you are one of them. You should also know that you are the best of the bunch. Thank you so much for being so supportive through it all.
"Thank You For Believing in Me Coach" Message Examples
Coaches are often undervalued and do not receive enough recognition for the positive impact they have on their athletes. Show your coach some love by sending them a thank you card! Here are some samples of what you can say on your card:
Thank you for always believing in me! You have helped my confidence grow tremendously this year. I am grateful that I could play on such a fantastic team with these talented players.
Dear coach, please accept these few words of gratitude for everything you do. Without your encouragement and support, I wouldn't be where I am today.
You have taught me so many valuable things about the soccer game, showing me how to be more confident and improve my skills. I am genuinely grateful for that. I will never forget all these unforgettable moments we shared this season.
Thank you for your dedication to our team and for believing in my abilities. It has been an honor playing under you this year. I wish you all the best in your future endeavors.
Thank you for the wonderful experience of being a part of your team. I will never forget all the amazing memories we shared together!
There are several thank you messages for people that believe in you right above. Feel free to make the most of them when the need arises. You could also decide to combine two or more messages here as you see fit.