Some lecturers go through thick and thin to improve the lives of their students. They show outstanding commitment and even end up as fantastic role models. When you finish your degree, you will want to thank your instructor for all their help along the way. A thank-you message is a great way to do this. You can also use it as an opportunity to ask any questions you may have about your degree or future career prospects. Some special occasions might be an excellent opportunity to do so, such as birthdays, a particular recognition program, inaugural lectures, and several other events.
A good thank-you note to your teacher should be personalized, polite, and specific. It should also be sent as soon as possible after finishing your degree.
Here are some tips for crafting a meaningful thank-you message to your lecturer:
Thank them for their help and support during your degree.
Mention any specific things they did that helped you succeed.
Tell them how much you enjoyed working with them and learning from them.
Mention any particular tasks they helped you with that were challenging but enjoyable.
Keep your message concise – between 50-100 words. Re-read it to check for spelling or grammatical errors before sending!
Some college professors across the country do not measure up to the required standard. Such messages may help them see the need to buckle up and give their best in their service to the academic community.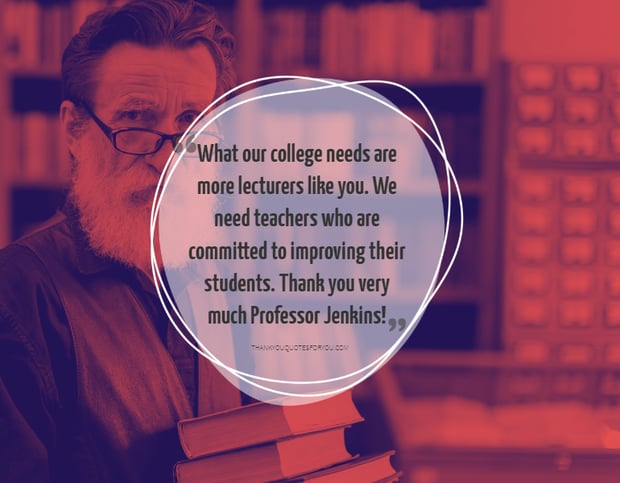 Short Thank You Message Examples to Lecturers
Thank you so much for all your help and guidance. Your lectures were always so enriching, and you have made a real difference in my education.
I just wanted to say thank you for all your help. I know the exams were challenging, but I wouldn't have been able to pass if it wasn't for you.
Your course was the highlight of my semester. Thank you for making this class so enjoyable.
Thank you for being such a great lecturer. It was always exciting, and I've learned a lot from you.
Learning from you has been a privilege as you are a blessing to the academic community. Thank you (name of recipient).
I could only wish every lecturer within and outside this college would take their jobs as seriously as you took yours. Thank you for your remarkable work.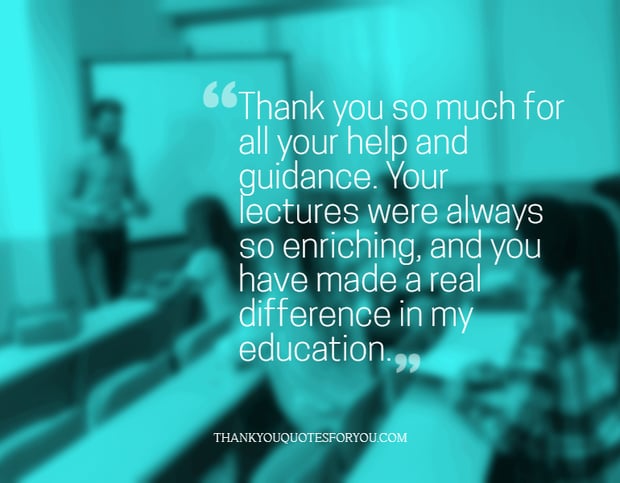 Meeting you was an eye-opener. An eye-opener that I could become a lot more if I put in the work. I have done just that and seen amazing results. This is all thanks to you.
What you do is a lot more than teaching. You enlighten, and that is what makes that positive difference. I appreciate you for going all the way to make this course so fun for your students.
You are way above the average lecturer. The reason is that you set the pace in your field, and your students are one of the greatest beneficiaries of this. I am so glad to be one of them.
Being supervised by you was one of the best things that happened to me as a college student. Thank you for making my time in college worth it.
What our college needs are more lecturers like you. We need teachers who are committed to improving their students. Thank you very much (name of recipient).
I would not think twice about reliving the college experience, and you are a major reason for that. You are the reason for many fond memories during my time in college, and I am very grateful.
Thank You Notes to Lecturers
I heard quite a lot about you before meeting you. My senior colleagues and even alumni members always sang your praise. Well, I have first-hand experience and now know that you deserve every bit of the accolades and even more. We all thank you for being a remarkable lecturer.
We sincerely hope that more lecturers in this alma Mata of ours will show more passion and commitment just as you do. That would go a long way in improving the body of scholarship. You are sincerely appreciated.
I would not have missed your inaugural lecture for anything in the world as I traveled so many miles. It is because of your positive impact on my life and countless others. You are appreciated (name of recipient).
You are a good lecturer because you have set a high standard for your student. This standard makes them way above their colleagues in the real world. However, you are a remarkable lecturer because you have equipped your students with everything they need to measure up to this high standard. Thank you for being remarkable.
There are very many lecturers and very few teachers in this academic institution. What we need are teachers as they can both lecture and teach. You have proven time and time again to be more than a lecturer, and we appreciate you for being the best teacher that has come our way.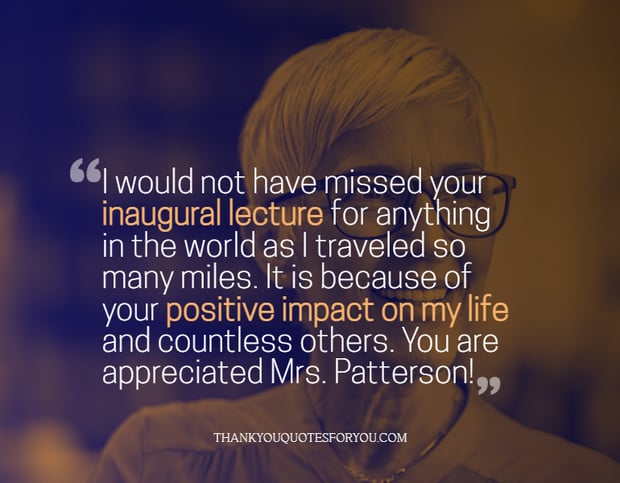 I pray that lecturers like you will spring forth in this college and many others. I am convinced that this will put the academic sector in a better state without a reasonable doubt. That is about how good you are.
There is a sense of great pride that comes with being your student. I and many others like me will not give it up for anything in the world. You are a fantastic lecturer, and we know your worth. You are much appreciated (name of recipient).
Just like me, every one of your students holds the ace. We are so blessed and advantaged to have been under your tutorship. You have had such a positive impact on us. A huge thanks to you (name of recipient).
I never knew that passion for academics was contagious. I contracted the desire to improve the body of scholarship from you, and I have not recovered ever since. Thank you for having such a profound effect on me and many others like me.
Some lecturers have a profound positive effect on their students. If this has been your experience, why not show your gratitude. As mentioned early on, this will encourage the commitment of these academic workers to help their students the various ways they can.