We don't need a special event to say "Thank You" to our parents for what they did in their whole life for you. There is no way to know how many sacrifices your parents made to make your life better and what you are today. You must acknowledge their boundless love and limitless sacrifices. Try to make them smile. You may use these thank you messages to show your appreciation and love to your beloved parents. Here you find some heartfelt thank you messages for parents, quotes, notes, and messages to show your gratitude towards your mother and father.
Thank You Quotes For Parents
I can't express in words how much I love both of you but I must say I have a special place in my heart only for you two. Thank you, Dad and Mom, for raising me so perfectly!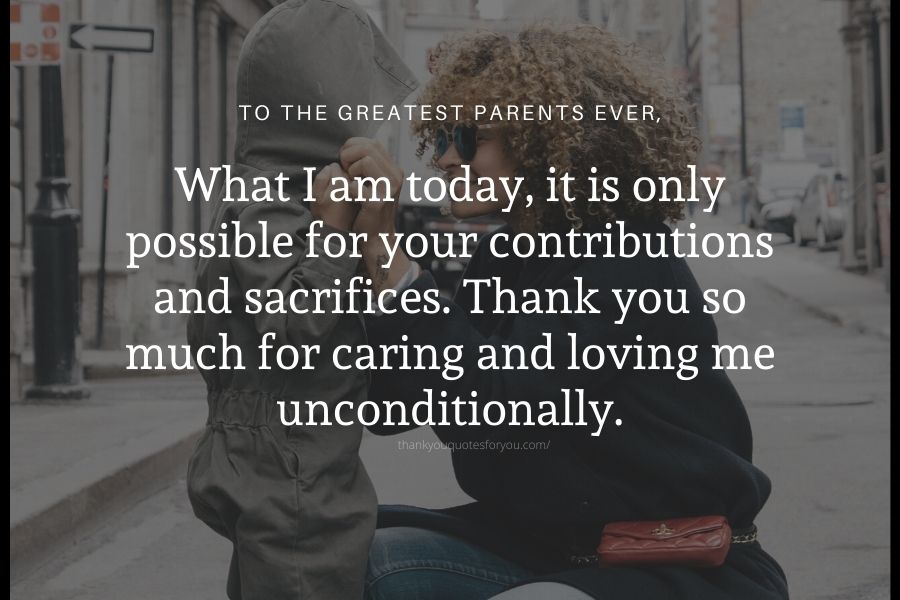 What I am today, it is only possible for your contributions and sacrifices. Thank you so much for caring and loving me unconditionally.
It's my good fortune and a blessing from God, I took birth from you. I promise you to always try to make both of you. Thank you a lot and love you both.
Thank you for raising me to build my character in a positive and righteous way. Without your sacrifices and love, I'd never been the person I am today. Thanks a ton for everything!
I have immense love and affection for both of you. You have taught me to spread love and kindness to all. Thank you so much for being so affectionate and caring!
Thanks a million to my loving mom and dad, for always caring for me and treating me as the best daughter in the world. You are the most lovable and the best parents in this universe for sure.
Without your sacrifices and affection, I wouldn't be a better person. Thank you for your selfless love and affection for me at all times. I can't imagine my life without you! Love you so much!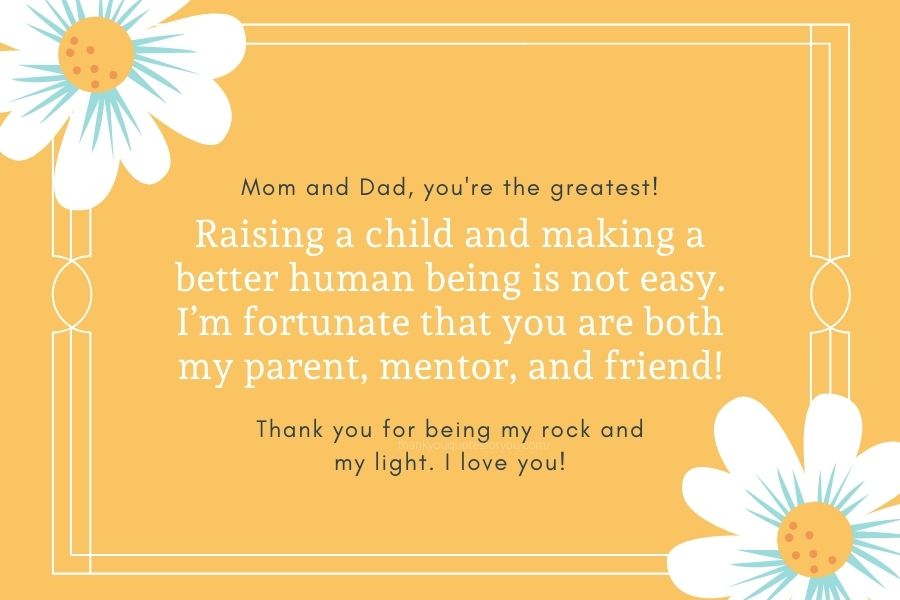 Thanks a ton to my dear parents for not only being a mentor, teacher, and friend. You are the reason and source of all the successes that I achieved in my life.
Raising a child and making a better human being is not easy.  I'm fortunate that you are both my parent, mentor, and friend!! Thank you!
I extend my heartiest gratitude and love to both of you for your limitless sacrifices and love to make me a better human being. A million thanks to you both!
Dear Parents, I show my immense love and thankfulness for your countless affection towards me. It doesn't matter if the world is against me, but if I am with you I feel enormous positive power. Your encouragement and inspiration made me what I am today. I pray to god for your good health and long life. Thanks a ton!
I always wish, the Almighty may bless everyone's parents like mine – understanding, supportive and kind! Thank you so much for giving me such a wonderful and precious life.
Thank you to my dear parents for everything! The most significant lesson I think I have learned from you is how to love and show compassion to everyone. I express my heartfelt gratitude and affection to dear parents for teaching me the best lesson.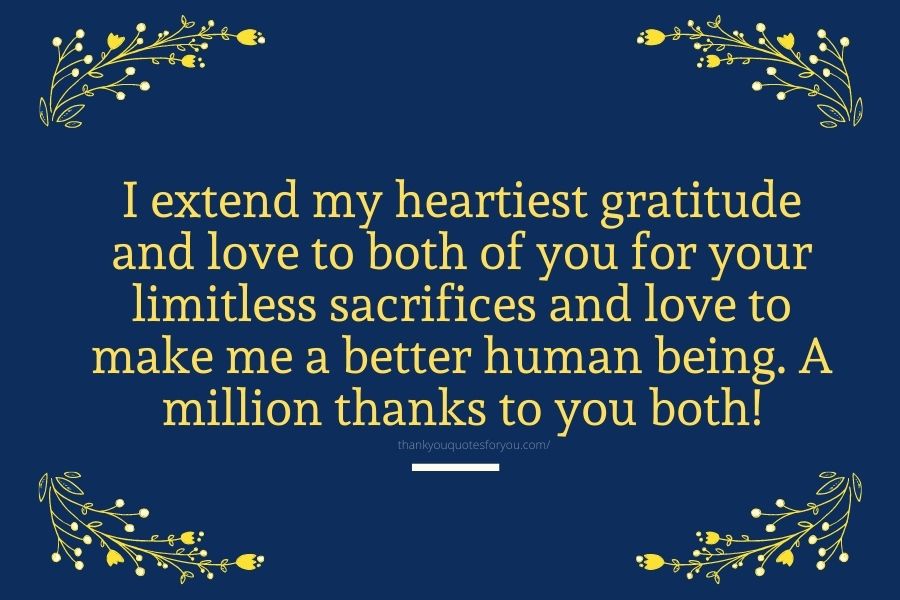 Thanks a ton to my dearest parents for removing all sorrow out of life in every possible way. You are the best parent. Love you both.
I can't truly convey how important you are in my life. So I just extend my thankfulness and gratitude to both of you for being the most wonderful parents ever.
Thanks a billion to my dear parents, for being my biggest supporter. You always encouraged me not to lose my hopes in every difficulty of my life. You made me stronger and braver to fight with all situations that I encounter in my life.
You two are the most precious gift in my life. Thank you for supporting and staying with me throughout life. Love you.
When I cannot find anyone besides me even then I feel enormous power from you for becoming my shadow during my hour of need. I am very fortunate enough to have a parent like you.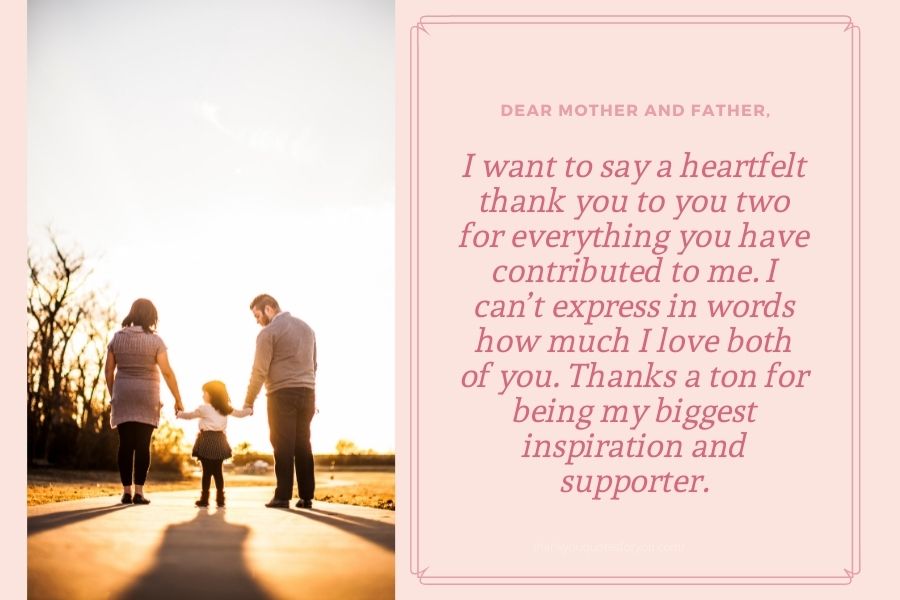 My dear parents, you sacrificed all your dreams and contributed a ton so that I can achieve my dreams. I don't have enough words to say thanks to you in this lifetime for your support and contribution to my life. Thank you so much.
I want to say a heartfelt thank you to you two for everything you have contributed to me. I can't express in words how much I love both of you. Thanks a ton for being my biggest inspiration and supporter.
For me, the most priceless thing is your smiling face. I cannot ever return you with anything for what you have sacrificed and contributed to me all this life. But I promise I am trying to repay you by saying the heartiest 'Thank You'.  Love and hug my parents. Thank you so much!
Thank you my beloved parents for showing me how to be compassionate to everyone. You always instructed me how to be courageous enough to face tough situations in my life. Thanks a ton and love you.
I have learned many valuable lessons in life from you two. You are the biggest source of inspiration behind my successes and behind all my endeavors! Thank you!
Raising a child is a very difficult job, but you have done everything selflessly and sacrificed a lot. Thank you for always being there at every good and bad time. Thank you and love you both!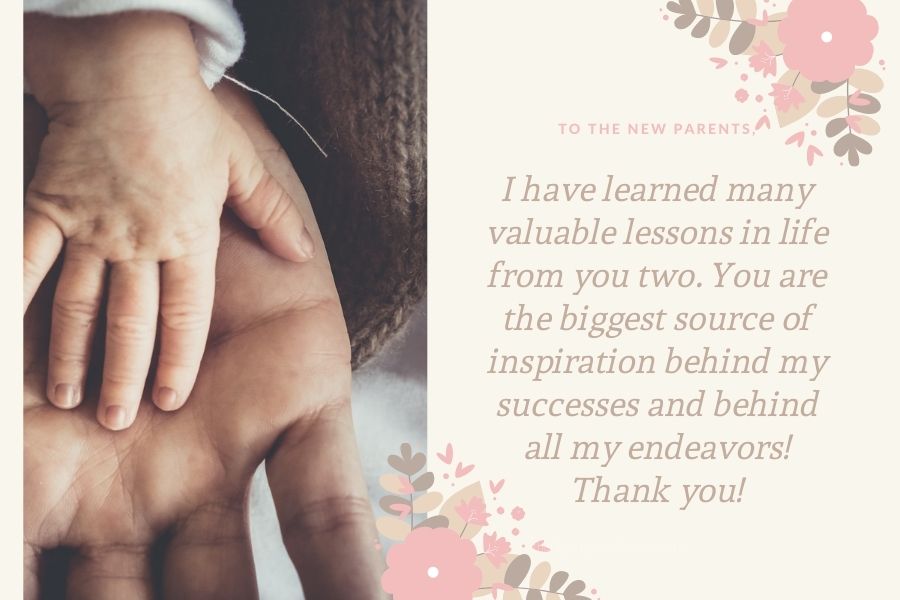 Your presence makes me feel like the entire world is with me. Whatever I do in life and wherever I go, your happiness is always my top priority. Because of you two, life seems so light and full of joy. Thank you for always blessing me and keeping in your prayers and always letting me to achieve my dreams whatever they may be.