Some people think paying for services offered is the only appreciation that a service provider deserves. Well, we beg to differ.
Even people who provide goods and services can do remarkably well and deserve to be appreciated when this happens. This is especially true when the services they offer mean a lot. Veterinarians fall into this category as what they do is important.
As canine, feline, or exotic pet owners, you know the importance of veterinarians. In the same vein, livestock owners are also aware of the importance of these medical practitioners.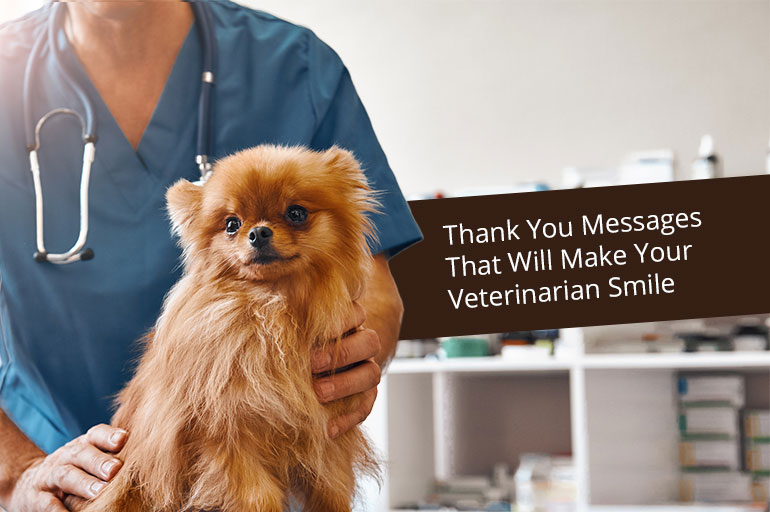 Considering these professionals' important roles, they deserve to be well appreciated. You can do this by sending some messages of gratitude to them, as this would go a long way. In light of this, we have some special appreciative messages that you can use below.
Messages of Gratitude to Your Veterinarian
I cannot afford to lose this pet as it means a lot to me. Thank you for ensuring my pet is always in good shape and state.
I have never undermined the importance of what you do. I do not miss appointments and take every piece of advice you give seriously for this reason. Thank you for always doing a good job.
Aside from my pet, I am the greatest beneficiary of your services. It is because I am directed affected by anything that affects my pet. Thank you for your quality service.
I am taking the time to appreciate you and your entire team for always doing a good job with my pet. I work with the knowledge that my pet is in good hands with you, and you are appreciated for this.
You are one of the best things that have happened to my pet and me. It is because you always have a solution to my pet's physical and mental health needs. I truly appreciate your services.
(Name of pet) means the whole world to me. I could not imagine what it would feel like without it around. Well, you are one of the reasons I still have it around and in good health. Your services are well appreciated.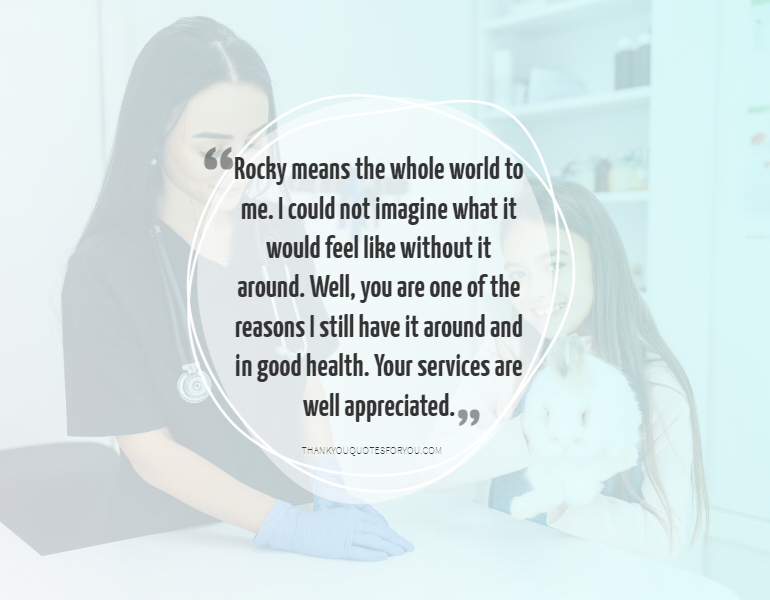 Because of the remarkable services you offer, you are a blessing in every sense of the word. We are very grateful for this and hope you keep up the good work (name of recipient).
I am very particular about who ends up treating my pet. That is why I did much research before ending up with you. I want to let you know that you are worth it. You are good at what you do, and I appreciate you for this. Well done (name of recipient).
I wish we had met you long before we did. We would not have gone through some of the health challenges we experienced. However, we are grateful that we found you when we did. Thanks for all that you do for my pet/livestock.
There are not many veterinarians like you. It is why you are the best at what you do, and you come highly recommended. You are celebrated, and we hope you keep up the great work.
My pet/livestock has improved a lot since we met, and this is no coincidence. It is clearly because of how good you are. Thank you for your amazing service all this while.
Regardless of how mild or severe the situation is, I breathe a sigh of relief whenever my pet is with you. It is because I know you would make things right with it. Thank you for being the best veterinarian there is.
There are not many veterinarians that can help out with an exotic pet. However, you are one of the rare ones, and you are very good at it. It has not gone unnoticed, and I thank you immensely for your services.
This pet is my dependable emotional support system. Any threat to its health is a threat to my emotional wellbeing. So, you can see why I appreciate your services. Thank you very much, Dr. (name of recipient).
Thank you for the known and unknown things you do to make life better for my pet. I am certain that I cannot pay you enough for your quality services, but you have my sincerest gratitude.
My pet used to dread visits to the vet's clinic, but this is changing with you. It is because of how serene your clinic is. It is also down to your experience with pets, and we are glad to be your client. Good job, Dr. (name of recipient).
From the way you have handled my pet all these while, I can say that you are passionate about your role as a veterinarian. We have benefited a lot as a result, and we are very grateful for this.
I am not new to pet parenting. In the same vein, I am not new to working with veterinarians. Given my experience, I can boldly say that you are the best thing that can happen to any pet and pet parent. I appreciate you for this.
Only a good veterinarian can fill a certain vacuum in a pet's life. Hard as it is to admit, not even the pet parent can fill this vacuum. You have done a great job filling this vacuum in my pet's life, and I am sincerely grateful.
(Name of Recipient), you are indeed one of the best things that have happened to your profession. It is such a privilege to have you as our veterinarian, and we are not unaware of this. Thank you for your amazing services.
You have a lot of appreciative messages here that you can use in appreciating your veterinarian. Considering that what these professionals do is remarkable, you are advised to make the most of these messages.