Got an amazing opportunity that changed your life? Someone gave you the chance to demonstrate your abilities for a project? Whether you've been offered an opportunity for a job interview, an internship, education, etc., you should thank the person behind it and show them your appreciation.
Everyone deserves words of kindness for their good gestures. Thanking people for things they do for you will make them feel appreciated. This way, they won't feel as if you take their gestures for granted.
We know it can be hard to find the right words, but no worries, we have got some of the best thank you messages for your inspiration. So, let's get right into it!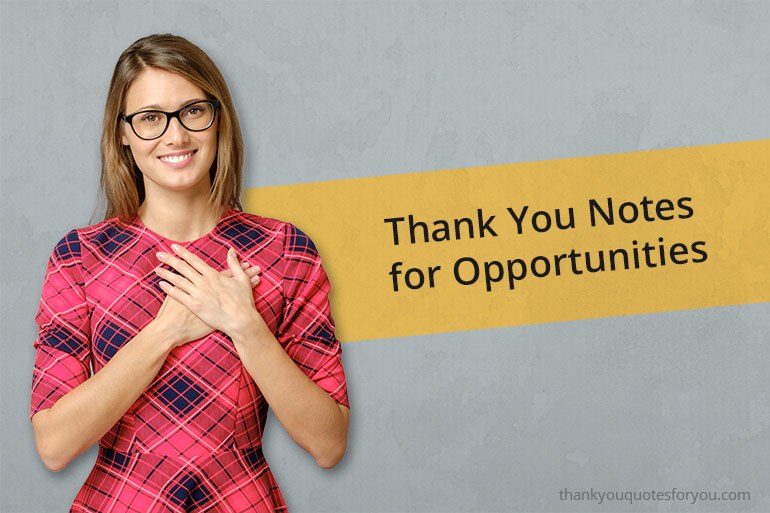 How to Write a Good Thank You Note for an Opportunity Offered?
Writing a thank-you message to someone isn't that hard. You just need to point out the reason behind your letter and express your gratitude for the gesture. Now, let's help you write a good message with these simple steps!
Step 1
Think about the exact reason you want to thank someone. The style of your message depends on your relationship with the person. If it is a friend, relative, or someone close, the tone should be friendly. Very close? Send a funny thank you message instead.
If you are not that close with the person, stay on the topic and thank them in a formal manner.
Step 2
After finding the right reason, mention how thankful you are. Tell them what it got you and how good it has been for you. Express how you value the opportunity.
Step 3
Keep the message short and precise. But don't skip out on essential parts.
Step 4
Optional: you can end the message with a wish or prayer for the person. Or you can mention that they can rely on you to do something for them.
Thank You Quotes for Opportunities
Thank you for getting me such a great opportunity with the audition. It was honestly life-changing for me. I am grateful for what you have done and assure you to use it to the fullest.
That job you recommended me for was the perfect opportunity to show off my skills. I really couldn't find anything, but when I talked to you, you got me in touch with the ideal company, and now my career is finally taking off! Thank you so much for your help
I want to thank you for the gig you recommended me for. The work environment is professional and fun at the same time. I am having a very good time there. Thank you so much!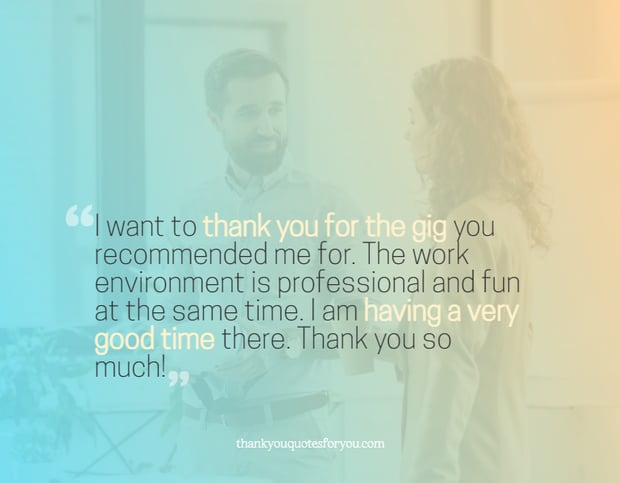 I want you to know that I appreciate that you have thought about me for that scholarship. I have always had an interest in this degree, but your recommendation made it very easy for me to get in. Thank you for believing in me and getting me this opportunity.
I am done with the internship you got me and I must say that it was one hell of an experience. All the people there were highly professional and skillful. I learned a lot these months, and my skills are very polished. It is going to help step up my resume to a great extent. Thank you for being so helpful!
You have been very helpful to me and got me that opportunity. It was a wholesome experience, and I learned a lot from it. People treated me with respect and professionalism in the office, which was amazing. My last workplace was no fun, but this one is exactly what I was looking for. You haven't been my good friend only but also an amazing help.
Thank you for giving me the opportunity to work in this place. I had a lot to learn from everyone here and I am grateful to you for all this. I had once in a lifetime experience here that made me professional and skillful. Everybody here is very talented and being around such people has been a pleasure.
Thank you for letting me speak here today and share my experience with everyone. I always wanted to let my word out there and help people with my story. It wouldn't have been possible if you hadn't invited me to this event. I enjoyed it a lot and it was an excellent opportunity for me.
Thank you for inviting me for an interview and accepting me at this place. I am looking forward to this opportunity and expect to learn a lot.
I am grateful for this opportunity you got me. Thank you for considering me for it and putting your trust in my abilities.
Thank you for offering me the chance to work on this project. It was an immense pleasure to work with my team on it as it was informative and educational. So, thanks once again!
Short Thank You Messages for Opportunities
Looking for a sentence or two to thank someone for getting you the best opportunity in life? No worries, we have what you are looking for!
Thank you for getting me this life-changing opportunity.
I am grateful that you thought about me for this interview. I was really looking forward to an opportunity like this.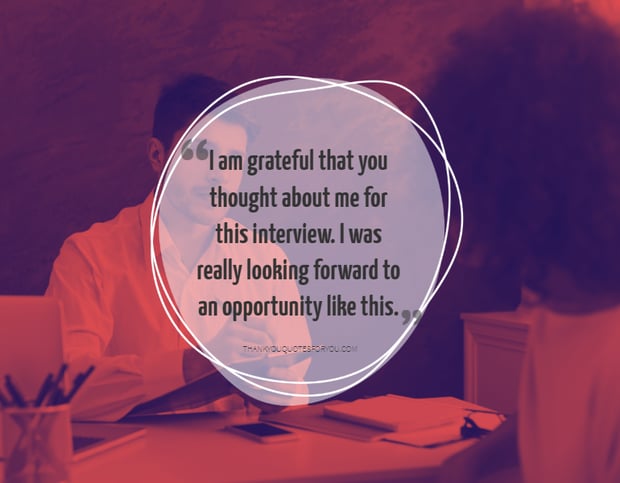 Thank you for getting me this scholarship. This opportunity is going to be a roller coaster for me and I expect to get a lot of good stuff from it.
I really appreciate you for choosing me for this great opportunity.
Thank you for choosing me for this job. It has been a great opportunity.
The chance to interview for this job meant a lot to me. I have been looking for such an opportunity for so long. Thank you for this!
I want to let you know that I appreciate you doing this for me. Your recommendation at that place got me this fantastic job opportunity.
Thanks for getting me the opportunity to be at this place. You guys are truly inspiring.
I am thankful to you for this educational opportunity. Getting admission in this field was a dream for me and you made it come true. So, thanks a lot!
The opportunity to let me speak today and help me find potential clients has been invaluable. Thank you!