Christmas is undoubtedly the most beautiful time of the year. No person should be allowed to feel left alone or uncelebrated during this holy period of the year. The festivals and the holidays call for togetherness and lavish means to express gratitude and support towards each one of us. To get to celebrate and acknowledge the efforts made by your employees at work is a great sentiment. Watching them work hard for an entire year would leave any good boss in awe and gratitude. A little present or a very thoughtful wish on the festival days and a generous bonus for being so dedicated and determined toward sour work throughout the year.
No one ever forgets a good boss or an understanding supervisor. Holidays are truly the best season to get to know the people who influence our lives in different areas and to understand them better outside of work.
Being an employee, it is a great feeling to receive a gift or a festival bonus from your supervisor or your boss. It makes us realise that they think of us and are always there for us to make us feel wanted and needed.
Here are a few thoughtful and well-written ideas for messages and notes that you can send to your boss and supervisor for giving you a raise or for giving you a surprise holiday bonus on the eve of Christmas.
Thank You Quotes & Messages For Christmas Bonus
Thank you for this beautiful year! I have learnt so much from you than what I can ever repay you. I feel so gratified and blessed to have received a Christmas bonus from you. I would really love it if you could take out some time to attend a small gathering at my home during the holidays.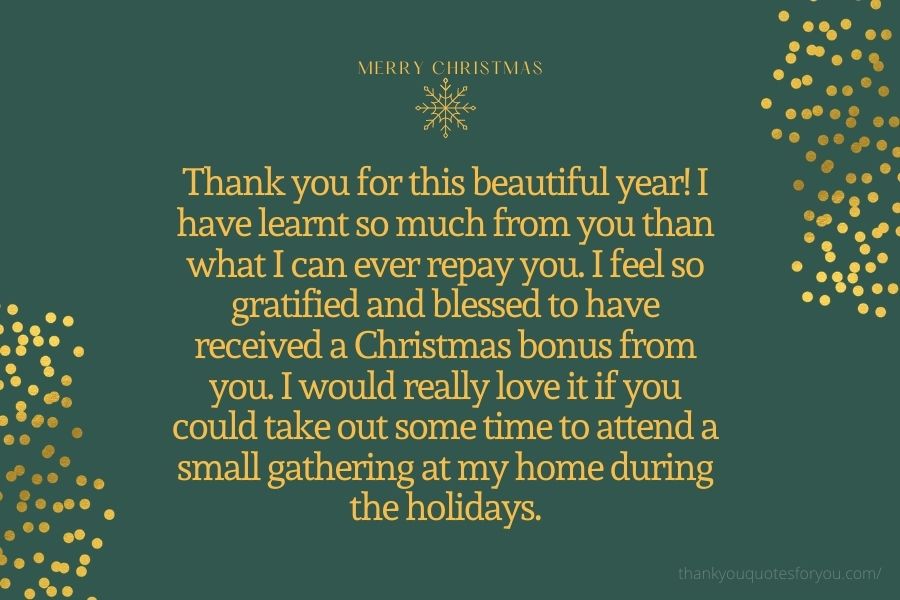 Thank you for being so kind and generous towards each and every employee of yours. I feel so glad to have received this Christmas bonus from you.
Merry Christmas! I hope you enjoy the holidays and kick start the new year with new zeal and enthusiasm. I am grateful to have received this generous Christmas bonus. The holidays would be a little more special now after receiving this gift from you.
I hope the holidays bring you great joy and happiness. Thank you for taking care of your employees as your own family. Giving us a surprise Christmas bonus is very thoughtful, thank you again!
Thank you so much for the Christmas bonus! It is rightly said that holidays are the best time to celebrate the bond and relationships we share with the people in our lives. This bonus means so much more than just some figures or printed papers.
I hope you are satisfied with our work performance this year. Each one of us has worked really hard.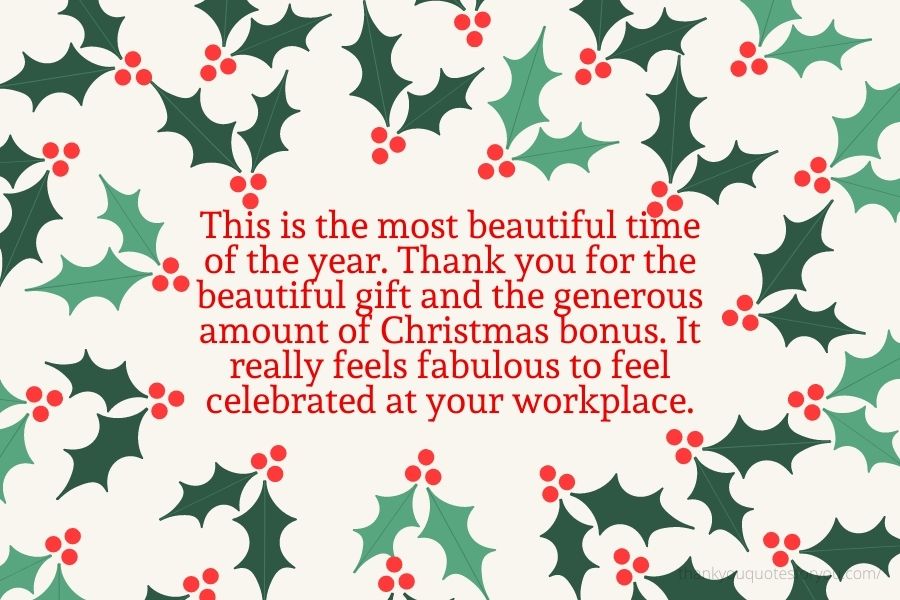 Thank you for celebrating the efforts made by each one of us in the team by giving us this generous Christmas and holidays bonus! We hope to be back next year with more enthusiasm and determination.
Thank you for always enriching our workspace with positivity and support. This Christmas bonus is just another example of your generosity and grace that you always bestow upon each one of us. No amount of gratitude can ever be enough for the sacrifices and efforts you make to keep us motivated and dedicated to our work.
It has been a wonderful journey for my career and my personal life. Receiving this generous Christmas bonus is just another example of how far I have reached. Thank you again for showing your generosity and kindness towards me. I look forward to gaining more experience from you.
I have learnt so much from 6ou throughout the year. All my improved work ethics and better teamwork credit go to you. I should be showering you with lavish gifts and wishes. Thank you so much for being so kind for providing me with this holiday bonus.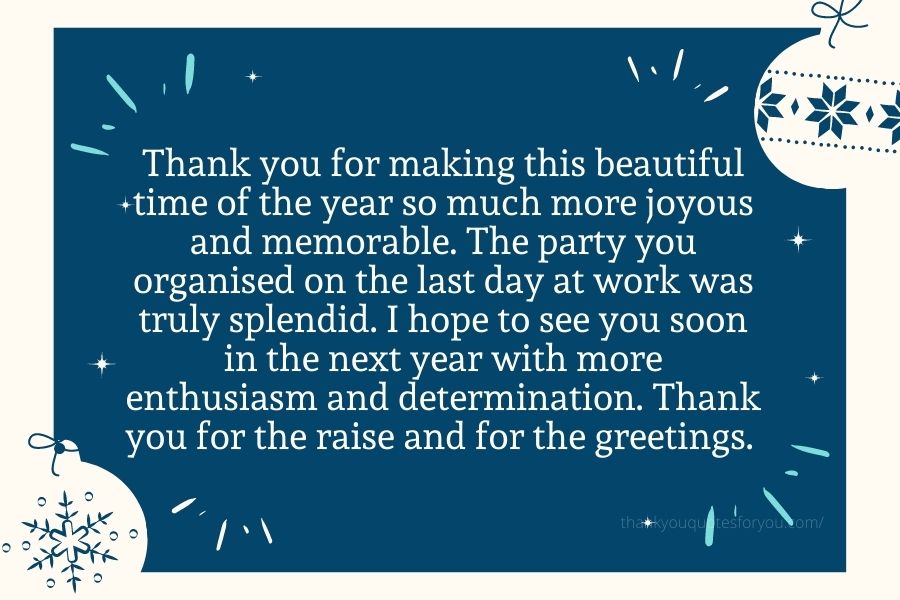 I feel so blessed to have a supervisor like you. Receiving a Christmas bonus from a person as respectable and intellectual like you makes me feel extra special and blessed. Thank you once again for the bonus and for your wishes during this holiday season.
I'm so grateful to have a boss as cool and generous as you. Thank you for gifting each one of us with the special leave days and the festival bonus. We feel celebrated and special at our workplace because of your generosity and support.
I can arguably say that I love working under you. It's not just the generosity you have but also the work ethics and the support you show towards the whole team. Thank you for showering us all with this beautiful gift of Christmas bonus. We feel highly grateful and thankful for you.
This is the most beautiful time of the year. Thank you for the beautiful gift and the generous amount of Christmas bonus. It really feels fabulous to feel celebrated at your workplace.
Thank you for always providing us with the most lavish and genuine gifts in festival season
This Christmas feels extra special because of the munificent festival bonus that you have showered upon us.
Thank you for making me and all my fellow colleagues feel so special and celebrated by taking out the time to send out wishes for the holidays and for giving us a lavish Christmas bonus.
Thank you for making this beautiful time of the year so much more joyous and memorable. The party you organised on the last day at work was truly splendid. I hope to see you soon in the next year with more enthusiasm and determination. Thank you for the raise and for the greetings.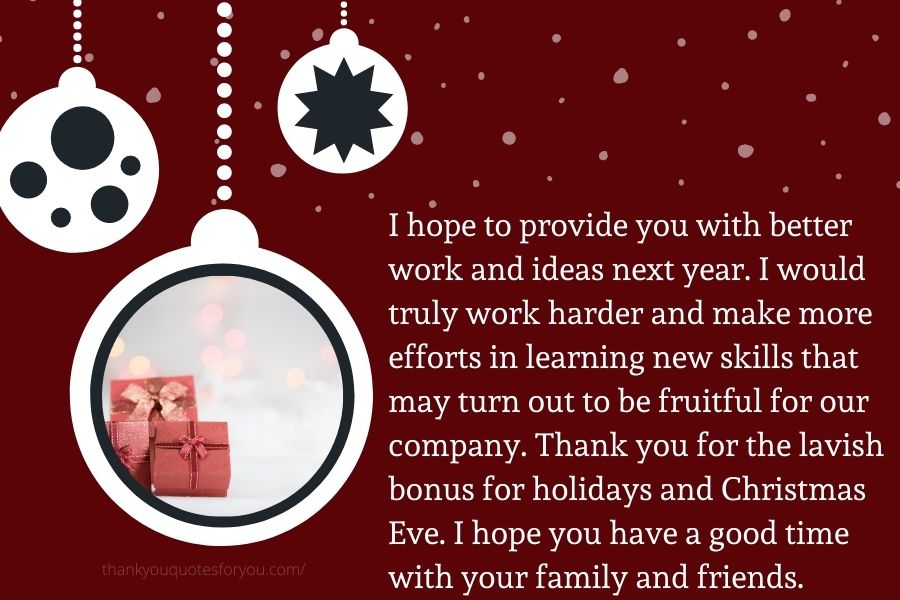 Thank you for being the best boss I could have ever asked for. You have truly helped me shape my career and my skills throughout the year. This raise is truly a blessing for me. I never thought you would consider me for this honour and position. See you next year sir!
I am glad we all made time for the small gathering at our offices. I was truly not expecting that you would be able to take out the time given your extremely hectic and busy schedule. Thank you once again for all your well wishes and for providing me and my work colleagues with a handsome Christmas bonus.
Thank you for honouring me with the handsome appraisal for the Christmas holidays. I was truly not expecting this to happen. I feel grateful to you and to our entire corporation for always considering the welfare of the employees before the benefit of the company.
Thank you sir for being the most selfless and understanding boss I have ever worked with. It is truly a blessing and a pleasure for me to be around people as influential and down to earth as you. This Christmas bonus is just another example of how thoughtful you are towards the welfare of your employees.
I hope to provide you with better work and ideas next year. I would truly work harder and make more efforts in learning new skills that may turn out to be fruitful for our company. Thank you for the lavish bonus for holidays and Christmas Eve. I hope you have a good time with your family and friends.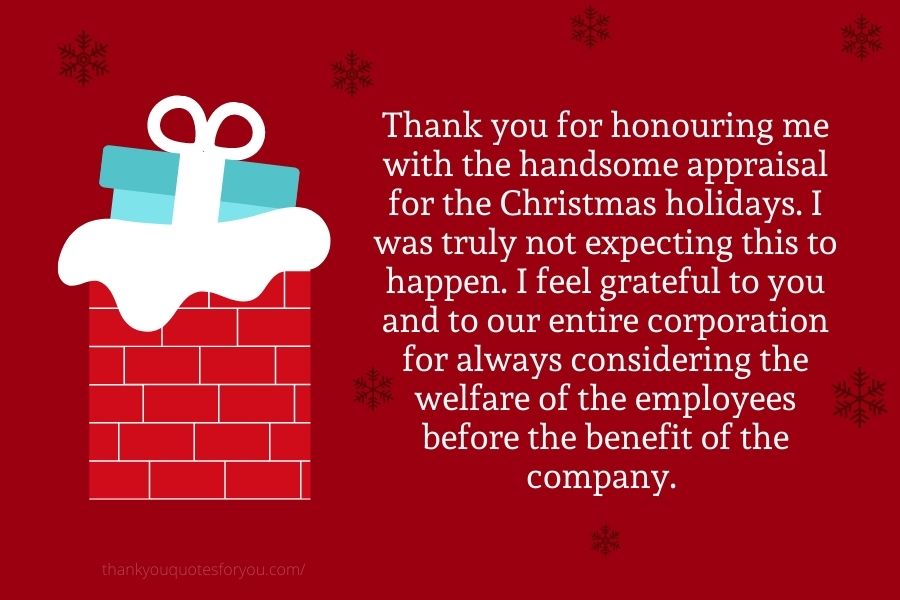 Thank you for being so thoughtful towards your employees and workers. A good wage was already a pleasure for us. Thank you for providing us with the extra bonus on the occasion of Christmas and Thanksgiving.