Christmas holidays are the best part of the year. We all keep rooting for tasteful desserts, meeting our families and for gifts, wonderful and thoughtful gifts from people who care about us and who matter! It is truly a joyous and blissful feeling to hear from your loved ones on the eve of Christmas and Thanksgiving holidays. Celebrating happiness and joy with our family and friends brings out the true joy of life.
A present means a lot of things, it truly leaves us feeling special and looked upon. Receiving a thoughtful present from the people we care about is truly a blissful feeling. Such people should always be reciprocated with the same level of energy and warmth. as their vibe really uplifts our moods, so should ours!
Here is a list of few messages and quotes you can send to your loved ones to remind them how lucky and special you feel to be remembered by such important people in your life and how delighted and joyous you were in revealing the present. This can truly make their day and leave them in awe and with nostalgia.
Grateful Thank You Quotes  And Messages For Christmas Gift
Things go much for the Christmas gifts! They were very thoughtful as I was intending to buy them for me this year, thank you for remembering even the smallest details of things I like and dislike.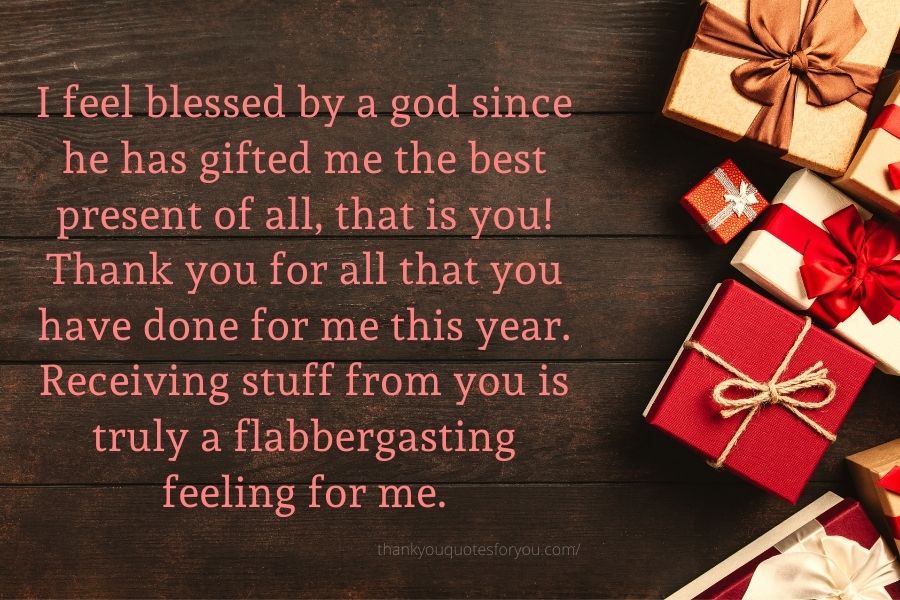 Thank you for making this Christmas so much more special for me.hearing from you was already astonishing and wonderful enough, that you sent a gift for me too has left me flabbergasted again.
This is the best time of the year. Getting remembered by the most influencing and important people of my life is truly a bliss. I hope you are doing very well in life. I am very grateful to you for your thoughtful gift.
Merry Christmas! I hope you are jolly and happy in your life. This gift was truly unexpected, thank you for taking out the time and effort for sending it. I keep rooting to meet you very soon.
I highly appreciate your thoughtfulness and generosity! Thank you for sending me a Christmas present. I look forward to spending time with you this holiday.
Receiving a beautiful gift from your most favourite person in the world is truly a bliss. I feel deeply indebted and grateful to you for giving me this elegant and beautiful present. It will always stay deeply special to me.
Spending Christmas Eve with the people who matter the most to me is truly a bliss. Thank you so much for all the love and tenderness you have shown towards me during these holidays and on Christmas Eve.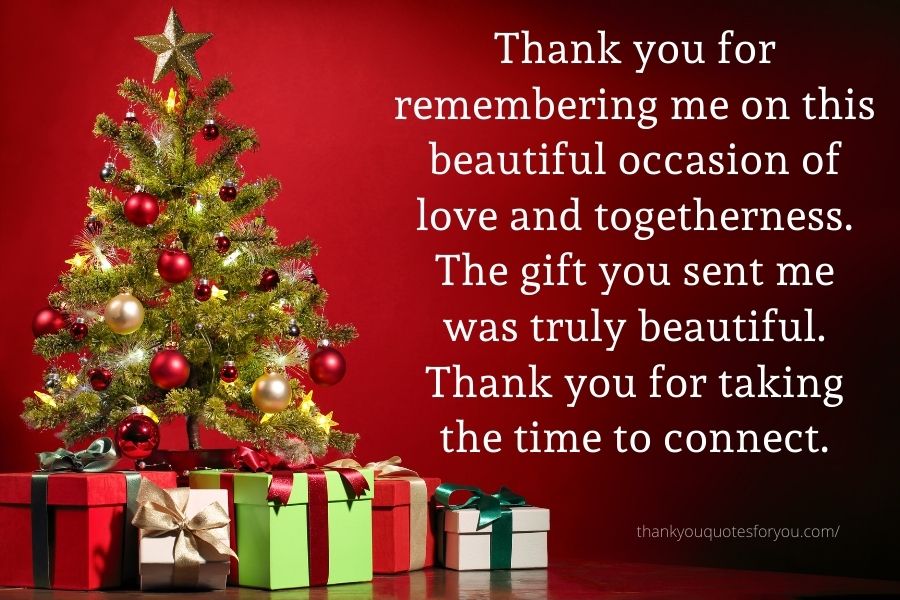 You know my taste so well, this is the best gift I could have received from a loved one! I don't have words to express how grateful I am to you, I truly want to hug you right now!
I feel blessed by a god since he has gifted me the best present of all, that is you! Thank you for all that you have done for me this year. Receiving stuff from you is truly a flabbergasting feeling for me.
You always have a way to make the people who you love feel special. I highly appreciate the gift you have sent for me, I hope we meet very soon, I love spending time with you!
Life is so beautiful with people like you in it! I feel so blessed by God that he gave me his best-est of creation! I feel so happy for all the success you have achieved this year.
Thank you for remembering me on this Christmas Eve. I am so happy for all the new ventures you have embarked upon this year! The gift you have sent me is well received and I really appreciate the time you put in for sending me it.
You will always be the person in my life, spending thanksgiving holidays and Christmas Eve with you is truly bliss. I hope to see you more often. The gift for Christmas Eve was truly splendid.
I'm so grateful for you for giving me this beautiful gift. Thank; you for your generous effort in making my Christmas so much more joyous.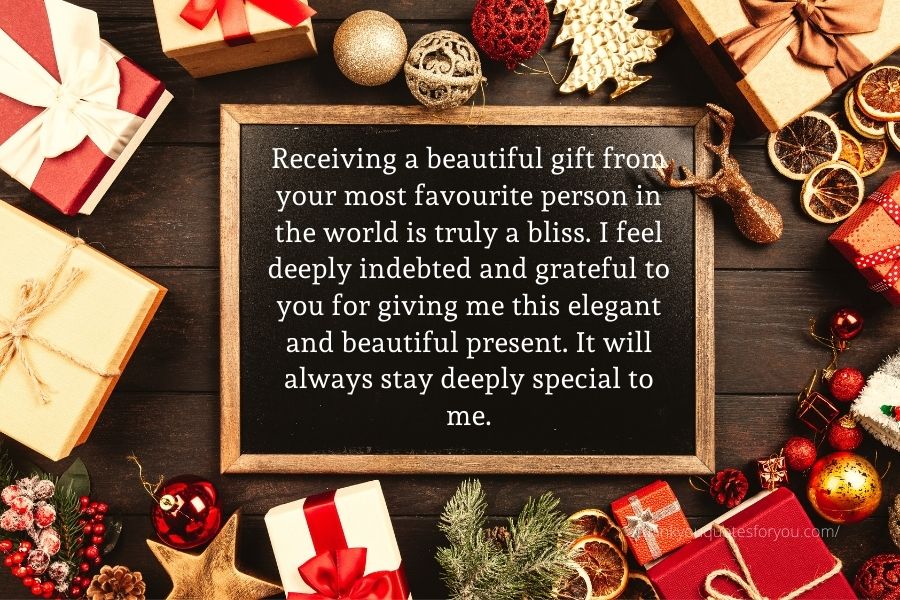 I hope life brings you in a lot more happiness and joy than you ask for. I truly believe in your potential and that you can achieve everything you put your mind into, thank you for sending me this beautiful gift, I feel deeply obliged and indebted to you.
Thank you for sending me a Christmas Eve gift! It was truly a charming and thrilling present. You have a decent taste in presents and art and craft.
Thank you for sending me a handcrafted gift. It was truly a beautiful experience unboxing it. I hope you are doing good in your life. I pray for your greater success and achievements.
Emotional Thank You Quotes And Messages For Christmas Gifts
Your gift really gratifies me. I was not expecting this beautiful present from someone. Thank you for thinking about me on this beautiful occasion of Christmas, I look forward to spending more time with you in the coming year.
It is truly a blissful feeling to know that there are so many people who deeply love and support you. Your gift has left me nostalgic and emotional. I can only imagine all the good days we both have spent together, I wish I could live them again, someday with you.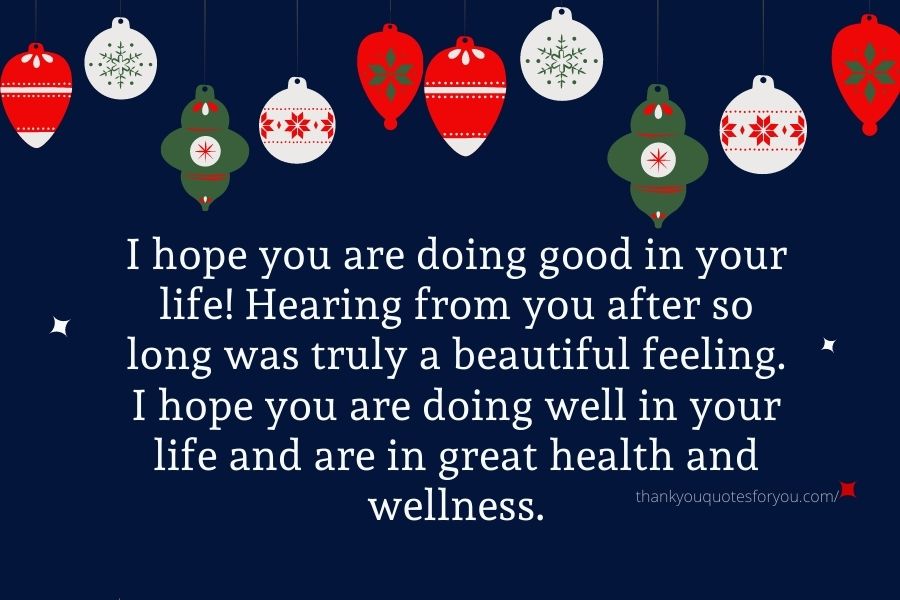 I hope you are doing good in your life! Hearing from you after so long was truly a beautiful feeling. I hope you are doing well in your life and are in great health and wellness.
Thank you for remembering me on this beautiful occasion of love and togetherness. The gift you sent me was truly beautiful. Thank you for taking the time to connect.
You have really taken my breath away with the beautiful Christmas gift you sent me. I was really not expecting this from anyone at all. I hope you know how much I admire and love you.
Thank you for sending me a Christmas gift as a reminder of our never-ending friendship. Your life and your struggles have truly inspired me to be a better person and to celebrate life more often.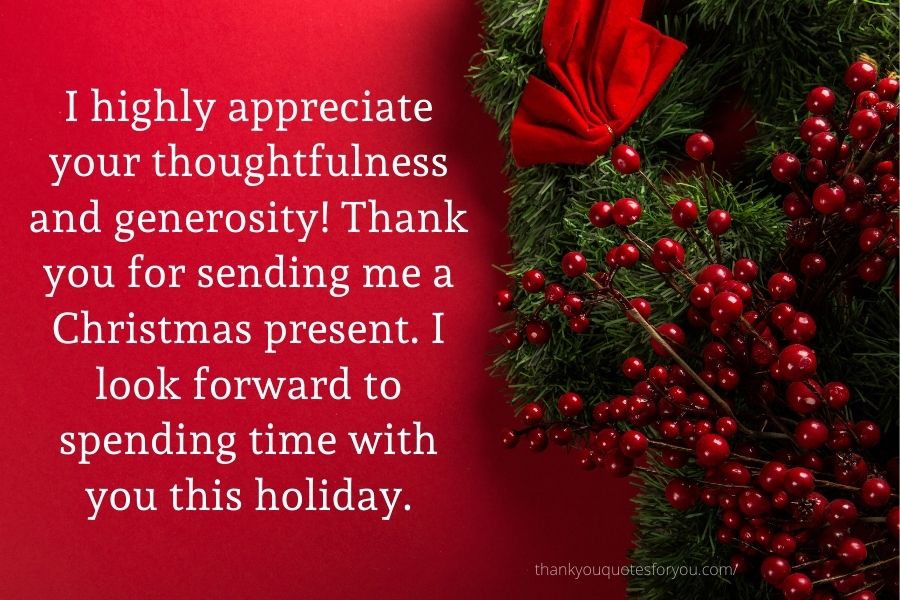 I really love the way you make me feel about myself, the gift you sent me is truly a symbol of how well you know me. Thank you so much for being so kind and generous towards me this year.
My elation on receiving a gift from you can not be expressed in words. It was a truly astonishing experience. I am glad that I have a person as inspiring and influential as you in my life.
I was truly bewildered to hear from you after so long. I hope you are doing great and are in good health. Time really flies! Old friends like you are truly a blessing from God, I look forward to meeting you very soon.