Godparents are our second guardian. They promise to take the responsibility of our religious education as well as to guide us through the thick and thins of life. They show us guidance and faith in the Almighty and provide us with all the required religious support as well as personal support when needed. It's a great privilege to grow up around a person who supports an understands all your doubts. Every moment spent with them leads us closer to God and hence, to enlightenment. We should cherish such people who selflessly preach us about the mysterious ways in which God blesses our lives.
We should never fail to show respect and gratitude to these people, for it is because of them that we seek wisdom and knowledge. They are our best friends since the day of our baptism and they never fail to have our back in every storm of life. Here are a few messages and quotes with which you can thank them for their kind gesture and efforts they put in to preach us and to guide us in our life.
Normal Thank You Messages For Godparents
Dear God mother, you have been my guiding lights in the moments of despair and anguish. I am extremely thankful to you for showing me what true faith is and how mysteriously God's blessings work. I always look forward to spending time with you. May God always stay by your side.
Thank you God mother for all the kindness and love you have shown me. I pray with sincerity and faith in the Almighty. You have made me think about my belief system as well as my fears. Thank you for being my leading light throughout my journey on Christianity.
You are one of the luminaries of the Catholic Church. I feel blessed to be raised under your guidance and vision. I feel enlightened when I speak to you about God and about his mysterious ways of blessing our lives.
Your generosity and presence is really appreciated on this day of christening! I hope that you always stay close to me and preach me more and more about faith and spiritualism. May God provide you with all the wellness and success there exits.
Thank you for being such a huge part of my child's baptism. I feel highly grateful for having a kind friend like you. Only Lord knows how much love and tenderness I have for you.
Thank you for the gifts, we are pretty sure our little girl will love to wear the beautiful dresses you have gifted. We feel obliged to you for being part of our girls christening.
You are a true blessing that God has bestowed upon me. Thank you for being there for me since the day of my baptism until today. I feel nothing but enlightened and grateful in your presence.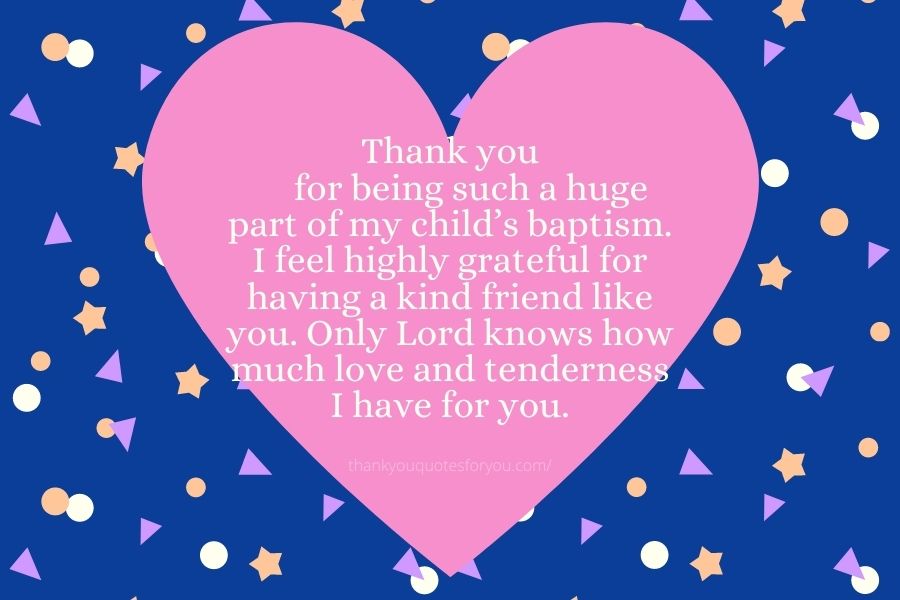 Your preachings have never failed to instill me with faith and wisdom. Thank you for all the time and efforts that you put in me for my religious understanding. I have full faith in God and I hope that you receive all of the happiness and wealth there exists in the world.
Thank you very much for playing a major part in my christening. This all makes me feel so special and connected to God. We all are his childrens and he looks down at us with love and kindness.
Dear God father, you have never failed to bestow me with wisdom and knowledge regarding our history and our religious beliefs. I have learnt a lot from you than that I can express in a simple message. My life will always be greatly influenced by you and your guidance.
Thank you God mother for being the guiding light in my religious enlightenment. Your role was always irreplaceable and constant. I have learnt more than you than I have from anyone else.
Thank you God father for never failing to be there for me when I need you. You have seen me grow up since the day of my christening till today. I see a father figure in you and pray to lord to give you all the happiness there exists in heaven.
Thank you for educating me about my religion, I have gained immense spiritual wisdom under your guidance and I'll always be grateful to you for being there for me.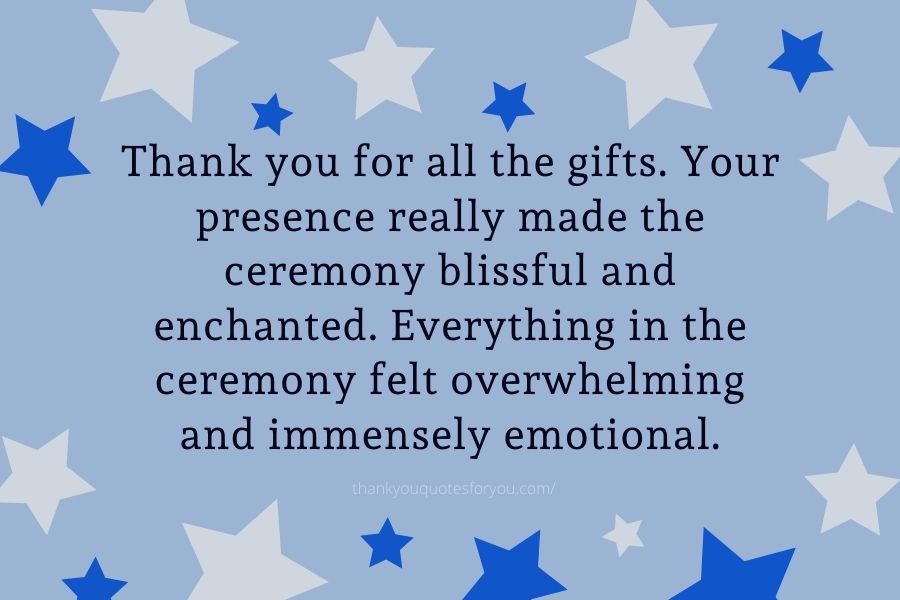 Dear God mother, you have always been there for me when I needed someone to hear me. I have confided in you in moments of anguish and distress. You have held me tight in the moments of thunderstorm and rain. If today I can see the good in bad situations, it is only because of your wisdom!
Thank you making it to my Christening ceremony. I feel blessed by Almighty for granting me this beautiful person as my God father! You have enlightened my mind as well as my life with your beliefs and teachings. May God understand your suffering and bestow you with love and tenderness.
Thank you for all the gifts. Your presence really made the ceremony blissful and enchanted. Everything in the ceremony felt overwhelming and immensely emotional.
Emotional Thank You Messages For Godparents
Thank you God mother, whoever I am today is because of you. You have seen potential and talent in me when no one else did. I feel obliged and grateful to the Almighty for blessing me with you.
Time and gain you have proved me that if anything wrong happens to me, you are just a call away! I feel honoured to have a god mother like you. Every day spent with you is full of blessings and faith.
I have learnt to trust my journey because of you. You have instilled me with confidence and credence. I feel strongly attached to God and that is completely because of you!
I feel highly protective and sentimental about you, God father! You have seen me since the day of my baptism till today, losing you would be the worst nightmare of my life.
May God give you all the happiness and wellness that you seek for. May your prayers be listened and that God bestow upon you all his blessings.
Thank you for being my God father, not a day goes by when I thank God everyday for blessing me with you. You have been my inspiration since time immemorial.
You have understood me in my moments of doubts and  anguish. My faith in you and the Almighty remain unchallenged since the day you preached me about the mysterious ways God's blessings work.
Thank you for making my baptism day so much special for me. I have gained an understanding of my religion and spiritualism from your preachings. You have invested immense amount of time and effort in me, I never end on wasting any of the lessons you have taught me! I will always be indebted to you for you watching my back.
You have guided me in every step and every phase of life. I feel obliged to you for your companionship and guidance. May Mother Mary bless your soul with kindness and love.
Looking back in time, I feel extremely sentimental for all the sacrifices you have made for me. All of the efforts you put in to enlighten me with knowledge and wisdom will never go in vain.
It's hard rendedning to see the sufferings in the entire world. I feel blessed by God to have someone like you who guides me through the forest of darkness and ignorance. You are always going to be my guiding light in all episodes of life.
I really count my blessings whenever I think about how lucky I am to have you as my God father. You be not just been a mentor but also my best friend at times of suffering and agony. Thank you listening to my heart when I did not know whom to turn to for support and encouragement.
You are somebody that can never be replaced from my life. I feel awestruck when I hear about your successes. You are the one person I can disclose all my insecuretues and doubts too. Thank you guiding me towards the light of God.
Thank you for teaching me what faith is and how important it is for a healthy and peaceful life! May God bestow you with tenderness and love.
You have been nothing but kind and generous to me, God father! I have learnt so much about spirituality and Christianity from you. My faith in the Almighty gets stronger an stronger with every prayer.