Throughout life, we grow, and on the journey, there are many people who nurture and guide the process. Our mentors willingly share their knowledge and provide patient guidance as we learn and grow.
When we take the time to acknowledge mentors that helped us grow, it is time to step back and let them feel the satisfaction and reward they deserve. Whether it is a teacher, a boss, or your mom, taking the time to say thank you will let them know the effort they invested in you was worthwhile.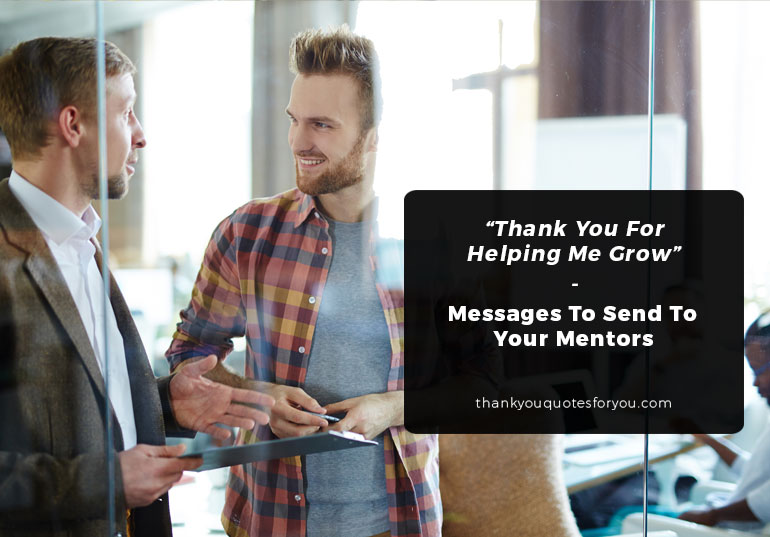 Ultimately, our achievements and successes in life are a direct result of our mentors. They are the people who have helped us to grow and been instrumental in shaping our lives, so a thoughtful thank you message will fill them with pride.
Growth comes in many forms. It can be academic, practical, physical, spiritual, when we finally grasp a difficult concept or reach a deeper understanding of a situation. For those in mentorship positions, fewer things are more rewarding than receiving a carefully formulated thank-you message.
What To Say In A Thank You Message To A Mentor
Mentors come in many forms and enrich our lives with their knowledge and expertise. Since they are people we look up to, it is important to choose words that convey sincere gratitude and respect.
Here are five tips to remember when sending a thank you for helping me grow message to a mentor:
The style should be more formal than if you were writing to a friend. Address your mentor by their title and name in your message so they can see that it is a carefully written, heartfelt thank you.
Your message may be displayed proudly in your mentor's office, so write neatly or send a card.
Tell them what quality you were most grateful for. Was it their patience, kindness, their example, or did they spend extra time with you to help you grow?
Thank your mentor sincerely and tell them how they have changed your future. This is particularly valuable when thanking teachers or lecturers.
Your message can include a particular memory about their mentorship but keep it brief.
Thank You For Helping Me Grow Messages For Mentors
You have not only taught me with your words but by your example. Thank you for being on standby when I wasn't sure of a way forward. Your expertise and advice helped me grow. I will never forget your positive impact on my life.
Your mentorship has been a precious gift during my career. I learned so much from you and will miss you a lot. You helped me grow, and I hope always to be a proud part of your legacy in the future. Wishing you every happiness and a well-deserved rest in your retirement.
I am in my position today because I didn't want to disappoint you. Thank you for being my mentor and helping me grow. Your unwavering faith that I would succeed has been an inspiration. It gave me the courage never to give up. 
I feel incredibly blessed to have you as a mentor. No matter how many questions I have, you patiently answer and help me grow. Thank you for always being a role model and encouraging me to stay focused.
You have enriched my life and helped me grow. I am grateful for your unwavering support and willingness to share your knowledge. I will always remember the lessons I learned from you.
Thank You Teacher For Helping Me Grow
You have helped me to grow in knowledge and have inspired me to do great things. I hope someday to make a difference in someone's life like you have made in mine.
Thank you for encouraging me to move up and out of my comfort zone and grow. It wasn't always easy, and there were times I doubted my abilities. I appreciate the time and effort you willingly offered to help me succeed.
You are proof that teaching is a calling rather than just a profession. Over the past year, you have helped me grow, and I hope you feel proud when you see how you have helped mold and shape the person I have become.
Thank you dear teacher, for always believing in me and helping me grow. You made me feel special even though you had many students in the class. I am excited about my future because of the difference you made in my life.
I'm going to miss being in your class next year. Thank you for helping me grow academically, spiritually, and in maturity. Your patience, support, and sense of humor have seen me through the difficult times, and I am incredibly grateful to you.
Thank you for investing your precious time and energy in me over the past year. I will never forget the day sat with me long after the class was dismissed to ensure I had understood the homework. Your positive energy was an inspiration that has helped me to grow.
Teacher, you have been more than just my educator. You have been a mentor who has helped me to grow in many areas. Thank you for always encouraging me to stay committed to my studies.
Thank you teacher for always wholeheartedly believing in me and helping me grow. You have been my pillar of strength over the past year. Thanks to you, I got a passing grade and hope to continue making you proud in the future.
At school, we have many teachers, but you have a special place in my heart. Thank you for being patient and cheerful when I had questions. Because of your guidance and example, I will continue to reach for the stars.
Dear teacher, I salute you for your dedication to your students over the past year. There were times I thought I would never understand the lessons, but you patiently explained and took the time to help me grow. Thanks to you, I am through and looking forward to graduation!
Thank You For Helping Me Grow Card
Before you took me under your wing, I was timid and barely spoke. Thank you for helping me grow and blossom with confidence! 
I have learned from the best and am blessed to have had you as my mentor. Thank you for helping me grow and sharing your wealth of experience. Thank you!
I am so grateful to have benefited from your experience in this industry. Your patient guidance has molded me to become confident in my work. Thank you for being my mentor, and never forget how deeply you are valued.
Thank you for being a ray of sunshine in my life that has helped me grow. You lifted my spirits even when I felt like giving up. Thank you for your mentorship and leadership, which have given my life direction.
 I hope this card puts a smile on your face and fills you with a sense of pride and achievement. Thank you for helping me grow to become the person I am today. Your wise words and courageous spirit will always be remembered with appreciation for the rest of my life.
Thank You For Helping Me Grow Mother's Day Messages
I am lucky that my mother is also my best friend. Thank you for being my cheerleader, taxi, chef, nurse, psychologist, and companion and always loving me without limits.
Out of all the excellent mothers in the world, I was the lucky child who was blessed with the best one. Your kindness, devotion, and wisdom are a constant inspiration to me. Thank you for helping me grow, and I hope always to be someone you can be genuinely proud of.
Thank you mother, for your enduring compassion and patience with me. You are not only my parent but a loving mentor in my life. Each day you help me grow and become the confident person I am today.
This Mother's Day, my wish is that you can feel proud of the person you have raised. Thank you for nurturing me and lovingly helping me grow each step of the way.
Happy Mother's Day to the kindest, most selfless, and beautiful person I know. Thank you for helping me grow physically, spiritually, and emotionally. I am lucky to call you mom, and I want you to know you are forever loved and appreciated.
 Thank you, mom, for your sacrifices to give me a better future. You are an example of what a parent should be. Have a relaxing Mother's day, and know that your efforts to help me grow have not been in vain.
I am using this Mother's day to formally thank you for helping me grow. You know me better than anyone, and you love me unconditionally. #Thankyoumom!
Mother's Day isn't just another day of the year; it is the day I get to celebrate my special mom! Thank you for everything you do to continue to help me grow. I love you wholeheartedly and feel blessed to have you as a parent.